Popecast! Newsweek to Offer Live Webcast of Pope's U.S. Visit

After Super Tuesday success, magazine looks to expand live video coverage.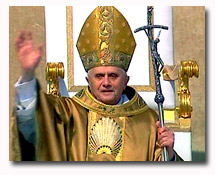 Newsweek is planning a live Webcast of Pope Benedict XVI's first visit to the United States as pontiff next month.
Dubbed Newsweek's "Popecast" by video producer and contributing editor Tammy Haddad, the magazine will offer live streaming coverage of the Washington, D.C. portion of Benedict's trip, slated for April 15-20. The Webcast will be anchored by Newsweek editor Jon Meacham.
"It's all about the pageantry," says Haddad, a former top producer MSNBC who was retained by Newsweek last fall to map out its video coverage online.
Benedict is scheduled to visit the White House on April 16, the Washington Nationals' new ballpark on April 17, then New York, where he will speak at the United Nations on April 18, visit Ground Zero and finally Yankee Stadium on April 20.
In February, Newsweek hosted a five-hour live Webcast on "Super Tuesday," also anchored by Meacham. It was sponsored by Dodge, cost $2,000 to produce, and generated roughly 100,000 streams. Newsweek did another one for the so-called Potomac Primaries a week later.
"We've created an entire new revenue stream out of the air," says Haddad. "We're applying the principles of live TV to the Web."
Meet the Author
---