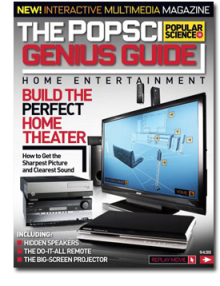 Despite recent reports that Popular Science is abandoning paid subscriptions to its Genius Guide, a Zinio-powered digital magazine it launched last spring, publisher Greg Hano says they'll continue to test different pay schemes—particularly on mobile devices.
"We have not abandoned our pay model," Hano told FOLIO:, and added that the first three issues are trials to gather feedback, create demand, and test price points for an eventual rollout to the mobile platform.
Pop Sci created the Genius Guide, which features videos and hot links embedded within its pages, to ride the wave of consumer adoption of e-readers, such as the Kindle, said Hano.
The company tested different price points for the first issue—from 99 cents to $4.99—and hoped to get 10,000 readers. The second issue was forecasted at 50,000.
The debut sold slightly more than 5,000 downloads at 99 cents, while the second issue, which was given away for free, did better with 14,000 downloads—still off from Hano's goal of 900,000 downloads for the first four issues combined.
The Genius Guide's "clunky and cumbersome" user experience caused the underwhelming response, said Hano, but feedback has nevertheless been positive. "After the second issue, we heard that consumers love the depth of content and the way we integrate video and audio," he said. "And they like that there are actionable things within the content that they can do at home."
But the Genius Guide was intended to do more than simply test the value of content to readers. The company believes that even though the pay model did not work in the standalone digital magazine format, it will be successful once The Genius Guide is adapted to e-readers and smartphones.
"It's similar to the effect iPods had on the sale of digital music," said Hano. "I think an e-reader will dramatically increase readers' acceptance of multimedia and digital magazines and help them see the value in them. We've always maintained that the Genius Guides are a learning process for us and for our readers and advertisers. We want to make sure we're ahead of the curve. We know that in the future when technology advances we'll be fully prepared to provide our readers with a more robust digital product that they'll be ready to purchase."