Politico Plans Print Magazine Launch as It Passes 1,000 Pro Subscriber Mark

Quarterly publication will have a circulation of 40,000.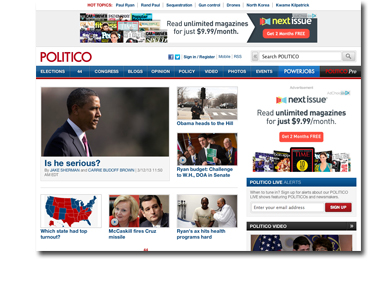 Politico, the politics and policy journalism site, says it has broken the 1,000 subscription mark to its Pro news service. Like other content-based sites, Politico has supplemented its revenues through paid subscription service that includes original content, but in this case offers robust personalization features to add value for subscribers.
The subscriptions are generally sold on an enterprise level, and Politico says about 7,000 individuals are subscribed to the two-year-old service through their organizations. The renewal rate is at 96 percent, says the company.
"We launched it because it was crystal clear for us that there was an appetite for reporting on these policy areas," says Politico executive editor Jim VandeHei. "To us, it was a pretty simple formula—hire the right reporters, have the technology and go in heavy."
VendeHei describes the Pro service as an early morning news feed, scoop machine, tipsheet, conventional reporting vehicle and, importantly, a highly personalized experience.
At the core of the service is the "whiteboard alert system," bursts of information—an important announcement, scoop or quote—sent throughout the day to subscribers' smartphones. And the underlying tech allows subscribers to tag their preferences so they receive only the content they want to.
"The idea is to make people's lives easier," says VandeHei.
Going forward, Politico is launching a new afternoon newsletter as a follow-on to its crack-of-dawn version, called the Pro Report, along with a quarterly policy magazine.
Politico already has a newspaper distributed around the Washington, D.C. area and plans to have the magazine follow a similar distribution strategy. It, however, will feature longer content more along the lines of the Pro service, acting as an enticement for Washington insiders who have yet to subscribe. The magazine will be free with a circulation of almost 40,000. 
If you're looking to better understand how your brands can thrive in a converged media landscape, register now for FOLIO: and min's MediaMashup event on April 16. 
Meet the Author
---