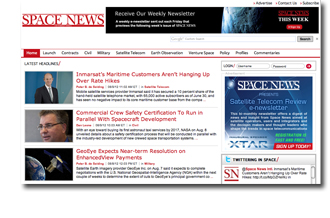 Imaginova, the Orion telescope and binocular maker, has sold off its media property Space News to Boulder, Colorado-based Pocket Ventures, a media investment firm set up by a team of former Inside Communications executives. The brand will be housed under a new company called Space News Inc.
Space News is published 49 times a year, reaching 45,000 readers in the aerospace industry and its website currently attracts about 75,000 monthly uniques, according to the company. The brand will keep its staff, including vice president and publisher Paul McPherson and editor Warren Ferster.
Terms of the deal were not released, but Pocket Ventures sees an upside with the brand's digital operation. "Space News as the only weekly exclusively covering space issues has a clear world-wide leadership position in print," says Space News Inc. chairman and Pocket Ventures co-founder Felix Magowan in a statement, "and we intend to build upon that by investing in various digital enhancements, including a radically redesigned and updated website, e-newsletters, microsites and apps."
Manhattan-based media investment bank Media Advisory Partners represented Pocket Ventures in the deal. Pocket Ventures was founded by three former Inside Communications executives after that company, which published VeloNews, Inside Triathalon and other titles, was bought by Falconhead Capital-backed Competitor Group in early 2008.