The Plight of the Postal Service

Most publishers are looking at a 3.8 percent increase this spring.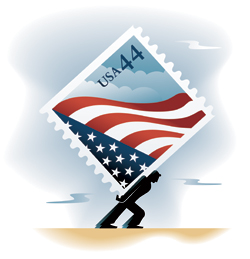 It's springtime, so that must mean another postal rate increase. Thankfully, this increase, like last year, is tied to the Consumer Price Index (CPI). So for periodicals, the rate hike will average about 3.8 percent across the industry, up from last year's 2.9 percent increase—much easier to swallow than 2007's increase that averaged about 11.4 percent for the industry.
The radical shape-based rate restructuring two years ago succeeded in pushing more publishers to use co-mailing, co-palletization and co-binding, which is critical because the distribution of periodicals—90 percent of which are delivered by mail—remains an expensive endeavor for the USPS and publishers alike. "Even small postage rate increases have the impact of moving more and more publishers into co-mail and co-palletization. Both of these mailing methods have become part of the everyday language of publishing," says Kerry M. Still, mail technology manager for Saint Joseph, Michigan-based IPC Print Services. "It has gotten to the point that publishers are probably more aware of the benefits of building mail volume than ever before."
Publishers who take advantage of those incentives are enjoying the lowest postal rates, while the ones who cannot—like most weeklies—face higher rates. Time for Kids, a spin-off of Time, is bracing for a 30 percent rate hike this month because the magazine is shipped in firm bundles going to classrooms and cannot partake in co-mailing or other cost-saving methods, says Jim O'Brien, vice president of distribution and postal affairs for Time Inc. That compares to a 2 percent postal increase for Real Simple or InStyle, he says.
The Nation, which very publicly decried the 2007 radical rate change and its punishing 20 percent increase on the 176,857-circ political magazine to the tune of $500,000, this year will see rates rise about 3.87 percent or an additional $125,000 annually. The publication hired a consultant to review its mailing practices for better efficiencies, and now co-mails a small portion of its low-density copies where the delay in delivery is only a day or two versus the seven-plus day delivery delay it would see for the bulk of its copies if the weekly comailed, says The Nation's president, Teresa Stack.
Another Increase Later This Year?
Some fear the Postal Service may push for a sharper rate increase later this year citing "extraordinary and exceptional circumstances"—or a so-called exigent increase as outlined by the Postal Accountability and Enhancement Act of 2006 that allows the USPS to drive increases above the CPI price cap. "There are no rules governing how the PRC handles an exigent case, so it's entirely possible the commission could say, 'Get periodicals up to 100 percent cost coverage,' which would mean a 17 percent increase without exigency to get there," says O'Brien. "That's too much too soon. We can't allow this to happen."
The postal rate schedule implemented two years ago looks to more accurately peg periodical rates to actual delivery costs and expects each mail class to contribute to the Postal Service's institutional costs. But periodicals postage revenues only covered about 84 percent of the class' attributable costs in FY 2008 and did not contribute to the USPS' institutional costs. In fact, American Business Media says that even if this year's costs are no higher than last year's, it would take a rate increase of 19 percent (on average) just to break even going forward—a grim outlook for mailers. One reason periodicals mail remains so expensive is because there's still too much manual handling of mail pieces. This month's implementation of the Intelligent Mail barcode and Flats Sequencing System should help alleviate that somewhat.
The MPA, and many others across the industry, are fully supporting H.R. 22, legislation which would provide the USPS some relief from its obligations with its Health Benefit Fund for retirees for a number of years. USPS Postmaster General  John E. Potter says it could save the USPS $2 billion annually over an eight-year period. The legislation would improve its short-term cash flow and help to avoid the possibility of an exigent rate increase or other drastic measures. Without relief, the Postal Service could have to cough up some $5 billion to the treasury in September, O'Brien says.
Critical Entry Times
Another potential area of concern is something called critical entry times. The USPS is now measured on delivery for periodicals mail and in an effort to improve delivery scores, some of the Postal Service areas are requesting earlier entry times for periodicals, O'Brien says. "So, if we used to have to get our product there by 5 p.m., now we might have to get it there by noon and if you don't, the delivery standard is no longer one day, but two days," he adds. The Postal Service "is using entry times to soften standards and it's something we as an industry need to watch."
If the USPS cuts its delivery schedule down to five days a week, it could spell a world of troubles for weekly magazines, depending on which day is lost. There's talk that in residential areas, Wednesday delivery may be cut. But if the Postal Service drops Saturdays, weekly magazines could be greatly impacted and would have to revamp their deadline and delivery structures. The alternative to a reduction in days is likely to be prices that mailers can't afford, says David R. Straus, a partner with law firm Thompson Coburn LLP and the legal counsel for American Business Media. "With volume declining, I fear that the costs of carriers per piece of mail will just become too high to support a six-day delivery system. In the longer run, I don't see how the Postal Service will be able to keep rate increases at the CPI level without a significant cutback in service. It's not a pretty picture."
 
SIDEBAR
Tune In, Speak Up and Get Involved
FOLIO: asked several sources how publishers can stay abreast of the postal situation and get more involved to affect change.
David R. Straus
Partner, Thompson Coburn LLP
Printers are a big part of the picture. They are at the top of the knowledge curve when it comes to postal matters and, because they are the ones that actually prepare and enter the mail, they have a great deal of influence at the Postal Service.  Publishers shouldn't be afraid to push their printers to communicate concerns to the Postal Service.  
Teresa Stack
President, The Nation
Express your postal rate concerns and how your magazine is affected by rate changes to your congressmen, the USPS, and the Postal Regulatory Commission. The largest publishers are pushing for their interests, and their interests are not the same as those of small publishers, so we have to speak up. I think it's essential that small periodicals are given a voice in the new process.
Jim O'Brien
VP, Distribution and Postal Affairs, Time Inc.
We as an industry need to push our associations to put together a task force with the industry and Postal Service to look at controlling periodicals cost. Secondly, contact your congressmen and ask them to co-sponsor H.R. 22, if they haven't already. If I were a publisher, I'd be looking at a number of things—co-mail, co-binding, co-palletization—checking every presort parameter including minimum and maximum bundle weights and pallet weights.
Kerry M. Still
Mail Technology Manager, IPC Print Services
Try reading the minutes from the Mailers Technical Advisory Committee (MTAC). Then, if you want to really get involved, join a local Postal Customer Council (PCC) or any number of professional organizations for mailers. A quick search of the USPS Web site or a general search of the Internet will return a long list of links.
Rita Cohen
Senior Vice President, Legislation & Regulatory Policy, Magazine Publishers of America
We have an extremely active and engaged postal committee that meets quarterly, with additional meetings as needed. For example, we had a special meeting recently to discuss potential volume growth and cost reduction opportunities. We will provide suggestions from that meeting to Postal Service senior management. We also provide educational opportunities to members through our professional development seminars and conferences. We are active in the Mailers' Technical Advisory Committee and have several other joint efforts with the Postal Service to provide input, suggestions, and feedback, including the Periodicals Operations Advisory Council, where we discuss operational issues, and the Periodicals Advisory Group, where we discuss mailing regulations issues.
Keith Hammerbeck
Corporate Director of Media Operations, Advanstar Communications
Stay involved with Postal Committees, partner with your printer to stay informed, and utilize the Business Service Network with the USPS to get updates as they happen. Stay informed. When the USPS asks for feedback, provide it. A lot of the changes they propose are altered, postponed or removed due to industry feedback.
Meet the Author
---