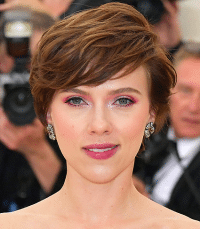 A media outlet with a considerably large platform hires a conservative columnist. It mostly goes under the radar, as there's nothing inherently controversial about hiring a conservative columnist, until the conservative columnist wades into controversial waters. The media outlet receives blowback from the left and promptly pulls the column and/or dismisses the writer in question before reaffirming a commitment to its editorial processes and standards. The media outlet receives blowback from the right and accusations of censorship.
Sound familiar?
That's essentially how the latest vapid media controversy has played out, given the news today that columnist Daniella Greenbaum has emphatically resigned from Business Insider after the outlet rescinded her column defending Scarlett Johansson being cast as a transgender man in the upcoming film "Rub & Tug."
First things first: there is a sensible conversation to be had about the ramifications of casting a female actress in such a role, but by advancing a straw-man argument that displays a total unwillingness to embrace the nuance of the subject, the value of Greenbaum's column existed only in the page-view count below its headline, not its contribution to the debate.
"Johansson's identity off the screen is irrelevant to the identities she plays on the screen," writes Greenbaum, which begs the question as to whether that same free-for-all logic would extend to a white actor donning blackface for a role. If Greenbaum's argument is that the performance should be judged on its own merits, and not preemptively condemned for the actress's off-screen identity, calling out the "social-justice warrior mob" in the first sentence of the column was probably not a tactful approach.

Despite a resignation letter that reads like a manifesto, decrying Business Insider's "capitulation to the mob," Greenbaum is not a victim of a coordinated campaign aimed at silencing her. She'd be incredibly naïve to assume the column would be met with universal adulation.
But she's also not the only party in this story to wield a platform irresponsibly.
Days after the article was taken down, reports The Daily Beast's Maxwell Tani, Business Insider editor-in-chief Nicholas Carlson assured staffers that steps would be taken to avoid similar missteps in the future.
"Culturally sensitive columns, analysis, and opinion pieces," Carlson said, will be reviewed by executive editors prior to publication.
"Editors should make sure we are not publishing shallow, 'hot takes,' but instead, fully thought-out arguments that reflect and respect the opposing view," Carlson added, per Tani.
If Business Insider's editorial standards are such that a column must be taken down, not because it frivolously misses the point of the subject it purports to address, but because it includes phrases like "social justice warrior," who the hell was monitoring this stuff before?
Were potential red flags not heralded by Greenbaum's prior "hot takes" about Maxine Waters helping to "destroy the fabric of our nation," or Rihanna's papal-inspired Met Gala outfit signifying further proof that "leftists arbitrarily decide which cultures are and are not worth protecting?"
(Actually, she's got a point on that second one. Despite my best efforts to be a good Catholic boy, I often leave my papal tiara at home when attending Sunday mass. Please, don't tell my mother.)
I have sufficient confidence in the American public that most of us can recognize that an opinion column does not necessarily reflect the views of the outlet in which it appears. By retracting the column entirely, without any explanation until prompted, Carlson only increased its visibility. At press time, the story occupies front-page real estate across Breitbart, the Daily Caller, the Federalist, the Washington Examiner, and the Washington Free Beacon, and Greenbaum herself has found a bit more prominent of a soapbox—the Washington Post, ever heard of it?—from which to bemoan "the predatory mob" and the way it's "slowly normalizing the policing of speech and opinion."
No, this is not a capitulation to the PC police; it's a realization, by an outlet that built an audience by prioritizing speed over substance, that it needs to guard its platform a bit more responsibly. It sets a dangerous precedent when the act of editing is so easily misconstrued as censorship, and publishing a poorly reasoned and ill-defended column only to rescind it in response to public pressure undermines the importance of editorial discretion in the first place.
The road to scale is paved with occasional missteps. Instead of enduring a weekend of online criticism, Business Insider created another martyr in the culture war.
I'll be on @TuckerCarlson around 830 discussing my resignation from @businessinsider and Scarlett Johansson's decision to pull out of Rub and Tug

— Daniella Greenbaum (@DGreenbaum) July 16, 2018