---

You know a pop culture trend is truly mainstream once "Saturday Night Live" parodies it. That happened a few seasons ago, when the late-night staple did a pitch-perfect send-up of "Serial." It was a clear indication that after a decade of niche appeal, podcasting had arrived. But it also meant that the genre had recognizable tics and pretensions worth poking fun at.
Only a few years later, and after tons of mainstream media investment in the medium, the podcasting infrastructure not only remains weirdly amateurish and frustrating, but its content is starting to feel rote and unimaginative. I say this as a cheerleader for the format ever since I first discovered its joys in 2005, when Apple added audio feeds to iTunes and supercharged the medium. I have chronicled its rise in these columns, celebrated its compelling, unique, in-your-head experience, pushed for more advertisers to embrace its impact, and highlighted its many moments of creative energy.
But I worry.
This original acolyte of on-demand audio is increasingly frustrated by its creaky mechanics, content clutter, mixed ad experience and sometimes borderline-hegemonic style.
So here are some thoughts I have about podcasting, in no particular order of importance.
Podcast advertising is getting worse, not better.
The integrated host reads were the podcast's original value add, and they lent special authenticity to its programming. Hosts not only read the marketing copy, they shared their own thoughts and experiences on the product as well. The new wave of dynamically inserted audio ads are as inauthentic as they are unconvincing. ZipRecruiter, especially, seems to be flooding the zone this quarter. (For what it's worth, I'm not hiring anyone.) Worse, bottom feeders like erectile dysfunction cures and other back-of-book garbage are now getting in the mix. The disconnect between context and advertiser is widening, and a tremendously vital promotional environment is being squandered.
Discovery and navigability are as bad now as they were in 2006.
Apple—and its risible iTunes—remains the choke point here, but neither the search infrastructure nor publishers themselves have filled the gap in pushing the right audio to people. The New York Times' "The Daily" is embedded atop its home page and app. That program is one of the biggest podcast hits since "Serial," so you would think that other publishers would take it as a clue about getting their audio out of the "Podcasts" tab and into the full experience of their sites.
But worse, the lean-back advantage of podcast listening is also its bane. The content has become, in many cases, bloated and filled with frustrating, indulgent banter that begs for indexing, chapter forwarding, anything that lets users interact and shape the experience more fully. Some podcasts are offering time stamps of their content, which is helpful and should be standard. Most of all, we need to be able to navigate multi-story podcasts the same way we can traverse a music album or audio book. Again, this goes back to my initial point that format has not evolved since 2006.
---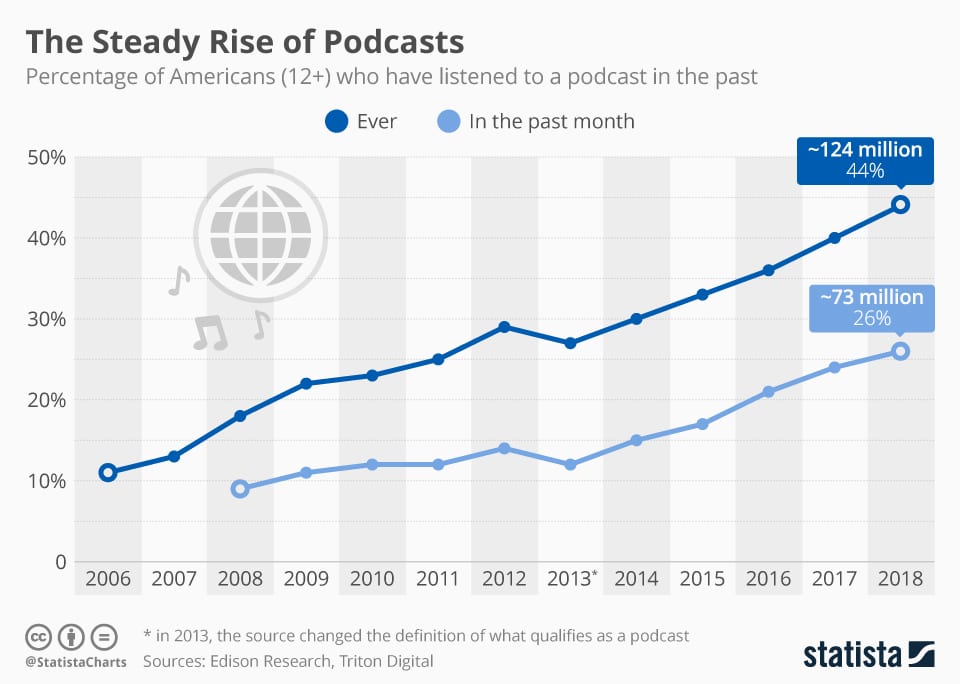 ---
Too much podcast content is too indulgent.
This notion takes two forms. The first is self-absorbed office/studio banter. Sure co-hosts asking one another (or their engineers) about how they spent the weekend has an overall personalizing effect that is endemic to podcasting and similar to radio. But in some instances that sort of banter is eating up much of a show's programming. Hearing about the minutiae of hosts' office antics, travails in the garden, shopping mall adventures, etc., really is as tedious as it sounds. Some great podcasts, like The Weekly Standard's "Weekly Subversive" conservative pop culture chat, have become mostly about the hosts themselves. Anna Farris's "Anna Farris is Unqualified" approaches self-parody in just how much it really is about the host's feelings, no matter who is being interviewed. The plague of self-regard that makes social platforms such a mixed experience is infecting podcasting at just that point when editorial discipline is most needed.
The other great indulgence of podcasting is confirmation therapy.
Most recently, Crooked Media's "Pod Save America" has been called out for being an "echo chamber" by Slate, of all outlets. You hear as much genuine diversity of opinion and creative disagreement here as you would in a senior seminar at Brown University. (The same holds true for most Slate podcasts, by the way.) But I experience it in most chat shows I sample in culture, business and health. Too many podcasts that aim for niche interests are less thought-provoking than they are reassuring.
There is not enough experimentation with form.
I think most podcasts are bloated and too long. Axios is a good model to follow in its daily promise to offer substance and variety in ten minutes. One genre that has been stymied by a sameness of theme and format is fiction. There are a number of very good ideas for serialized fiction podcasts, for instance, that suffer from onerously slow pacing and no way to catch up on too many episodes. "Welcome to Night Vale" set this trend early on. Some of these series might remember that the original soap operas on radio were 15-minute dailies that were easy to drop into. I suspect that fiction podcasting could move out of its cultish niche if it embraced the frequency/brevity model.
One of the absolute best podcasts to which I ever subscribed was The Onion's one-minute daily news brief that I listened to a decade ago. It was a deftly done, minute-long piece of satire that had a five second ad bumper from the same sponsor at the end of every daily episode. To this day I still recall the sponsor—Chili's.
Point being, podcasting simply is not about a bunch of like-minded buds talking and talking and talking and talking, with contextually irrelevant commercial breaks. To evolve as a form and a business, podcasting needs to think harder.