Players Club Doubles as Free Real Estate Listing for Lenny Dykstra

Reviewing the latest Doubledown launch.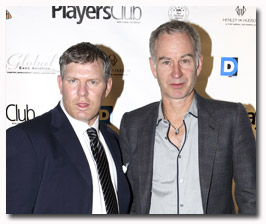 The Players Club, the magazine for professional athletes founded by Lenny Dykstra and published by Doubledown Media, had its launch last week. I had an interview scheduled with Dykstra—apparently notorious for missing interviews with journalists but one helluva stock picker!—but he never called. (Naturally, I waited by the phone, sucking on a hunk of chaw for six hours, but no "Nails" for me.) I had plenty of questions, the first of which is why Dykstra—and, moreover, Doubledown—thinks a magazine like this will work when others, specifically Overtime, have failed.
Hopefully he'll reschedule.
In the meantime, I thought it might be useful to take a peek inside the 170-page debut issue. The magazine itself is big and heavy—kind of like a W for the athlete set. And then, the ads. There are a lot of 'em, mostly for private jet services. (Whether or not these ads are paid or barter or gratis is another story.)
The content is pretty standard fare—in other words, unmemorable listicles ("All-Money All-Stars"), grids ("What's hot in your world?"), charts ("Fitness Drinks: the box score") as-told-to columns by John McEnroe and Tim Brown, an awkward fashion spread featuring Philadelphia Phillies outfielder Pat Burrell and vapid profiles—including the laughable cover story on Yankees shortstop and noted nightclub connoisseur Derek Jeter, by otherwise respected sportswriter Bob Klapisch. (Sample Jeter quotes: "I've really toned it down away from the field" and "I watch movies.")
One feature, though, did catch my eye: a six-page photo spread of a 12,000-square-foot mansion outside of Los Angeles, built by Wayne Gretzky—a member of the Players Club "board of directors"—that sold in 2007 but is "on the market again."
The unmentioned current owner of that estate: Lenny Dykstra.
Nothing like a free, high-end glossy house ad in a down real estate market, right? Now that's a true player.
Meet the Author
---