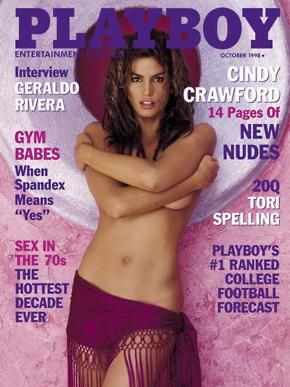 Playboy, Over and Out

We begin with Playboy, because why not? Hef and his fluffle of ever-present bunnies are not much in the news anymore, but his magazine is. We wrote about it here only a few weeks ago when the book that introduced classy nude photography to America chose, in a dramatic about-face, to go totally no-nudes. The execs placed their fate (with apologies to Erica Jong) in nipless luck.
That was but one sign that Playboy was in a crisis both financial and existential. There were reports too that Hugh Hefner's heirs were feuding about the direction not just of the iconic monthly, but the company's global empire as well.
Proof of those rumors seemed to emerge a week ago when reliable sources reported that Hef's whole kit and the kaboobles were for sale, and that they might fetch as much as $500 million. The magazine's circ is said to be down to something around 800,000, a fraction of its peak numbers. Soon, it seems, it will all be on the auction block.
We'll leave the bidding to others, and we wish Hugh Hefner well. He created and built an influential worldwide brand; his take on women and women's issues arguably helped tilt an entire generation to a more accepting attitude.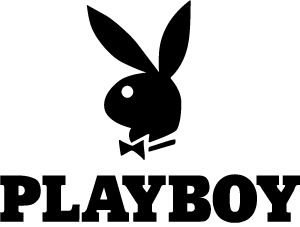 Unfortunately, to everything there is a season. Playboy's season has passed. The magazine, under new editorial management, is currently neither a standout nor essential. It's the worst possible thing of all: irrelevant.
In projecting the amount Hef can raise from the sale of assets, which include the Playboy Mansion in Los Angeles, the magazine is believed to have little or no value. The money is in the Playboy brand—the licensing of its various bits and pieces. I suspect even those are more of a trophy in foreign markets than in the United States.
How far has the magazine fallen from its golden era? I was recently in touch with two of its writers. One, an occasional features contributor, wrote to me that the magazine "is doomed." The other, a longtime staple in the book's pages, said in an email that Playboy now "looks like a college start-up magazine. I just don't see where the audience will be. Seems fated to fade, fade, fade."
Sour grapes? Could be. Still, it's hard to argue that Playboy is anything more than an afterthought these days, an asterisk in the story of great American magazines. About that we are sad, but resigned.
---
Two Ascending: Watch! and Venice

Bank of America phone reps once routinely asked of its customers, "Are we exceeding your expectations?" (As if.)
What does that even mean—exceeding expectations? Is that possible?
Well, in the magazine realm, it means that some books could cheap it out, if they wished, and probably still earn a profit, but they choose instead to invest in products in order to improve them. They make magazines better than the publisher's office might deem prudent. Why would they do that?
After all, bad businesses generally become out-of-business businesses. Still, there's the question of how much profit is needed at any point in time to satisfy shareholders. Sometimes, just scraping by can be good enough if the product—in this case, magazines—is delivering important intangibles.
One such intangible: promotion and prestige—for ownership or for an individual. It can be a powerful aphrodisiac.
It's that intangible that CBS Television's PR department had in mind when it pitched Watch! to CBS Television just over a decade ago.
Might Watch! make money for CBS? Well, possibly, but you'd be forgiven for being a skeptic. What the magazine could certainly do, however, was call attention to CBS' programming and its collection of stars. That would bring real value to the proposition.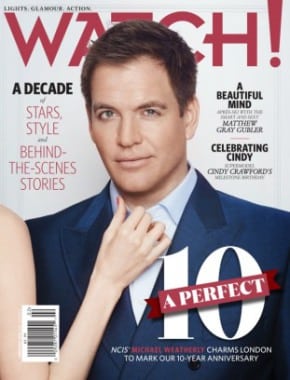 Fortunately, it has worked better than anyone could have imagined.
The folks who ran CBS when Watch! launched had essentially one concern about the venture—that it not lose money. It hasn't.
Watch! has evolved beautifully over its 10-year lifespan. At first, it was an unabashed cheerleader for CBS. Its appeal was limited. With ever-improving circ and newsstand sales, the book has grown at once bolder and subtler.
It's now a drop-dead gorgeous bi-monthly, rivaling in design and production quality anything you'll find in the American market. Amazing, when you think about its origins. Too, Watch! now reads far less like a CBS newsletter. Which is a good thing.
I'd dare the typical first-time reader to identify Watch!'s publisher. So skillfully has editor Jeremy Murphy and his team grown and tweaked the book (tagline: LIGHTS. GLAMOUR. ACTION.) that it is now essentially a glossy pop/lifestyle/entertainment journal that—oh, look, I see some pieces in here about TV personalities and stuff. Cleverly done. Bravo.
With the success he's demonstrated (advertisers have bought in in from across major categories), Murphy and company have now got the go-ahead to add to their roster of talent. In the fall, David Denicolo, previously of Vogue, is coming aboard to head a new men's section. Also arriving will be a reconfigured beauty and fashion section, called Covet, under the direction of Kristin Perrotta (from Allure) and Sasha Morrison (Vanity Fair and other titles).
Finally, Murphy tells me that the magazine "will soon announce a new brand ambassador to help kick off the men's section." Who would that be? The editor is appropriately coy: "I can't reveal his identity, but he is a world-famous model and half of an international jet-setting couple."
Any guesses?
---
Now, to a very good regional book with broad ambitions.
Venice, which bills itself as "Fort Lauderdale's Magazine," is the brainchild of Carlos A. Suarez, who is best known for his years as the creative director of Miami's Ocean Drive mag.
He and his business partners launched Venice into the crowded South Florida luxury market just about two years ago. Following a severe economic slump, "things were building, people were excited again about living in Fort Lauderdale," Venice's editor, Nila Do Simon, told me several days ago. "Fort Lauderdale was ready for a serious publication."
That would be Venice—and yes, the title was perhaps ill-considered, as there are towns elsewhere in the U.S. that are actually named Venice. One threatened to sue. There was a settlement.
Venice is a prime-rib-thick, oversized quarterly that focuses on fashion, real estate, food, and the breezy lifestyle that attracts the rich and flashy to South Florida (basically, along the eastern coast, from Miami up to Palm Beach). Suarez identified a deep vein of money old and new, ready to be excavated.
What most stood out, and baffled me, when I received the first several issues of Venice is that the sexy cover models bore no connection to the city of Fort Lauderdale. Was I missing something, maybe a high-concept link of some kind?
No. "At the end of the day, they are fashion models," Nila Do Simon, the editor, told me. The women are selected chiefly to show off clothing (and sometimes not too much of it) featured inside. Sometimes there's a small story about the women. That's not exactly a bait and switch.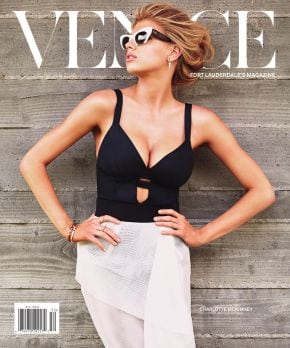 However, it seemed from the launch issue, and still seems to me now, as if there's a lost opportunity to use the magazine's covers to say something, anything, about greater Fort Lauderdale and the stories inside the book.
In the near term it is not going to happen because it's not what Suarez, the magazine's creative director, envisions. What's more—or less—is that there are no coverlines. Ever. Just the name of the featured model, in diminutive type.
Simon, the magazine's editor (and prolific writer), has some reservations about the spareness of her covers. "Frankly, I'm not so sure they've sold it to me yet," she says of her creative team. "We may need to revisit that."
What requires no rethinking, though, is the book's lush layouts, its fabulous photography (more than 60 percent of the shooters are based in the area), and its first-class production values throughout.
If you dropped one of these behemoths on a coffee table overlooking the Atlantic Ocean, I suspect it would barely deteriorate from one decade to the next. Venice, like Twinkies, is built to look irresistible and to survive.
That may not be the most important virtue of a magazine, but it's a good one to boast about when on ad calls.
In assigning stories, Simon says that although the book is intended to be a powerful visual statement, she imagines her readers spending quality time with the words too. "I want our readers to embrace our edit, to read about subjects they don't know a lot about. We try to drill down to the intellectual part" of pieces, she told me.
Her long-range goal is to be "like a Garden & Gun" for South Florida. She grants that there's a long way to go.
To begin, it can't be overlooked that there's something more than a little iterative about Venice. It's not so much a copy of the much-admired G&G—which, after all, is a more than worthy template—but Miami's Ocean Drive, where Suarez formerly presided.
Venice feels much like Ocean Drive without all the fizz and splash of South Beach. In essence, it's a variation of Suarez's ol' book, which is still published down the road a bit. It's important to note that that is not a bad thing. And from a business sense, sure, go there.
What it means, though, is that Fort Lauderdale did not get a book purpose-built for Fort Lauderdale. Not yet, anyway. There's been no daring, from-the-foundation-up reinvention. Venice is a very pretty magazine, a sensible and stylish magazine for a sybaritic audience. It's just that it's not yet a magazine that makes waves.
Like CBS's more mature Watch!, though, it may well exceed the modest expectations of its growing readership. And that's always a grand story to tell.