Playboy Launches Web-Based Digital Subscription Service

iPlayboy sub service is optimized for iPad, uses iPad functions.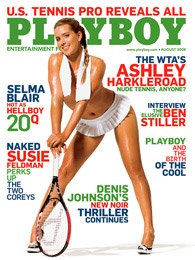 As many magazine services opt to take the App Store route for subscription plans that dole out digital issues to readers, Playboy Enterprises launches iPlayboy.com, a Web-based subscription service.
iPlayboy.com offers every issue published since the magazine's launch in December 1953 for purchase. Additional content includes video and curated content recommendations from members of the Playboy Commission, a group of "celebrated individuals from art, design, fashion, media and technology".
Aside from the 30 percent cut from sub purchases and ownership of customer data that is the App Store standard, Apple is also very selective with what content is deemed appropriate for sale through the Store.
Subscriptions are priced at $8 dollars a month, $60 for a year and $100 for two year's worth of digital issues. According to a press statement, iPlayboy.com is specifically optimized for the iPad; the site also utilizes iPad functions.
In 2009, Playboy went live with a digital archive of select back issues of the publication. At time of launch, over 50 issues (choices were picked based on a cycling pattern, January, 1954, February 1955, March 1956, etc.) from 1954 to 2007 were available for viewing at no cost.
Before this, Playboy released fully searchable archives of the magazine on DVD-ROM. Playboy partnered with Bondi Digital in production of both endeavors.
Since Apple launched its subscription plan, Conde Nast, Hearst and Bonnier have all reached deals to sell titles through the service.
Meet the Author
---