Is Playboy's Print Future in Jeopardy?

Despite CEO's assurances, anything could happen if the company is sold.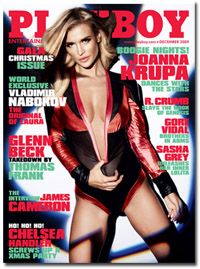 Ever since taking over as Playboy Enterprises CEO in June, Scott Flanders has been adamant that he is not only "absolutely committed" to keeping Playboy in print, but that he's a big believer in print and that he's certain "the magazine will come back" to profitability.
More recently, during an earnings call last week, Flanders said that while "bolder steps are required" to get the print edition in the black again, three things are sure. Among them is that he is working on a joint venture in the development of a new business model for the company.
Now comes news that Playboy is in separate talks with brand management firm Iconix Brand Group and another group led by Playboy's former entertainment group president Jim Griffiths to acquire the company and take it private. The pricetag might be more than $300 million, reports say. The company's stock price shot up from about $2.90 a share to more than $4 yesterday on news of the sale talks.
So, is this the "joint venture" Flanders was referring to? I would have asked Flanders himself but the company issued a public statement Thursday, in response to inquiries related to a potential sale, saying that as a policy it doesn't comment on rumors.
The first thing that jumped out to me was what a sale of Playboy Enterprises could mean for the future of the print magazine. Despite all of Flanders' assurances that the magazine would remain in print, it could go out the window if new owners take over, right?
I asked DeSilva + Phillips managing partner Reed Phillips about what he thinks might happen. He said a buyer would most likely keep the magazine in print, at least for a while, but is "very unlikely to commit to keeping the magazine in print as part of the deal."
Phillips also called Iconix's interest in Playboy strange. "In my experience, whenever a strategic buyer who is not in media or publishing acquires a magazine company, it is for reasons that have little to do with growing the media business and more to do with how that business might help grow the buyer's primary business," he said. "In this case, I suspect Iconix sees value in exploiting the Playboy brand beyond media. My guess is that if they acquire Playboy, they'll continue to publish the print magazine for a while, but the emphasis will shift to managing Playboy as a brand without much allegiance to whether it remains in print for the long term."
In the end, however, it all boils down to what company founder and aging ladies man Hugh Hefner wants to do, as he continues to hold roughly 70 percent of the company's voting stock. As the Los Angeles Times pointed out, a buyer would have to persuade Hefner to not only sell the company but also to stay involved with it, "given his importance to the brand."
And what about his sentiment for the print product (assuming he has any)? While holding onto poorly performing products because they matter to you personally isn't exactly the smartest business practice, Playboy's print edition is the bedrock on which the entire brand was built. It'd be a shame to see it go.
Meet the Author
---