Playboy Returns to Its Archive, Launches Playmates.com

New site is a non-nude interactive chronicle of 60 years' worth of Playmates.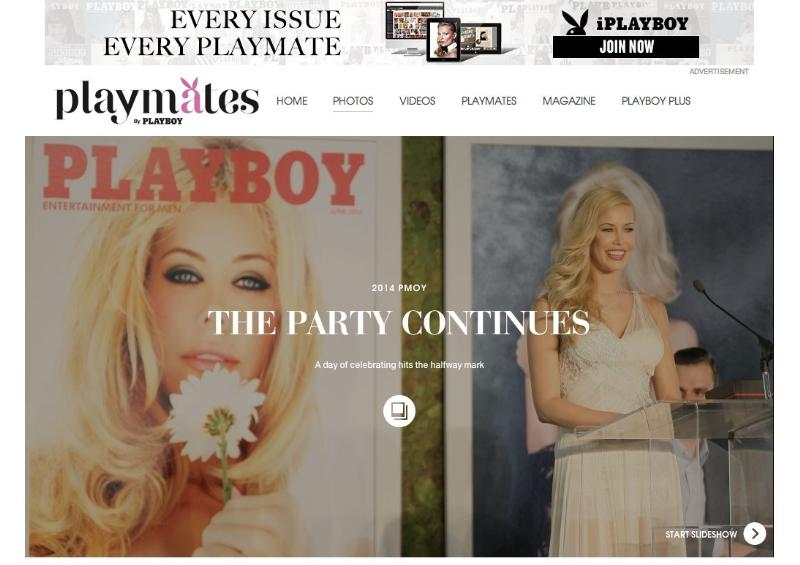 Playboy is celebrating its 60th birthday this year. So far the celebration has already included a robust anniversary issue that kicked off 2014 and a rerelease of its inaugural issue. Now, the magazine has launched Playmates.com, an interactive website dedicated to the history of the brand's iconic Playmates.
Playmates.com will be a slightly safer landing page for visitors in that it will not reveal nudity. That said, visitors still have plenty of eye candy to explore. Plus, the site is fully interactive and mobile responsive, so it encourages discovery and click-through from any device.
In a statement, David Israel, COO and president of Playboy Media, describes the new site as "a single resource to satisfy the huge appetite for everything there is to know about our readers' and fans' favorite Playmates." He adds, "Playmates.com provides both our readers and Playmates alike with a fun platform to engage, share, reminisce and connect with an American cultural phenomenon."
A spokesman tells FOLIO: that Playboy's 14 million Facebook fans and more than one million Instagram followers validated its decision to launch the new verticle. 
From a business perspective, the new site is a solid marketing play. It's optimized for social sharing; it has clear entry points for visitors to either subscribe to the magazine or iPlayboy; and the site is well branded, meaning there is no mistaking that it's a Playboy property. Also worth noting is that aside from house ads, there is no other advertising on the site. But the company says, "we have no immediate monetization plans but we do believe that there will be a large and attractive enough audeince to provide for advertising and e-commerce opportunities in the future."
In terms of content, the site has introduced a few new features. Visitors that wish to know more about the Playmates can engage with "15 Seconds," a feature similar to the "Playmate Data Sheet" that accompanies each centerfold. The "Playmate Redux" will provide readers with a "where are they now?" perspective on some of the most popular Playmates from the past 60 years. There is also has a weekly video blog, which will discuss a host of lifestyle topics including dating and relationship advice.
Meet the Author
---