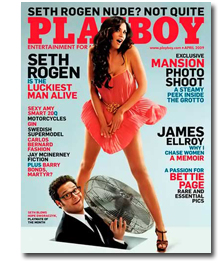 Playboy Enterprises, parent company of Playboy magazine, announced today that its second quarter 2009 revenues were $62.2 million, down 15.3 percent from $73.4 million over the same period in 2008. The company reported a net loss for the quarter of $8.7 million, up from a $3.2 million net loss in 2008.
Revenues for the print/digital group were $28.3 million in the quarter, down $3.9 million from the same period last year. However, segment income was up from $0.1 million to $2.3 million. Yet that was attributed to cost savings from combining the July and August issues of the magazine.
This also boosted the magazine's circulation top line by 16 percent in 2009's second quarter to $12.9 million compared to the same period last year, softening the 38 percent decline in ad pages for the second quarter this year.
On the digital side specifically, revenues were down to $8.9 million from $11.6 million in last year's second quarter. This, says the company, resulted from "lower paysite, e-commerce and advertising sales."
But if things look bad now, CEO Scott Flanders-who just joined the company in June, coming from Freedom Communications-warned that the second half doesn't look much better. "The media businesses will face a more challenging second half with fewer near-term opportunities to grow revenues," he said in a statement. "As a result, we do not expect the media businesses to report top- or bottom-line improvement in the second half of 2009 compared to the same period last year."
The company also said that it expects to report a 47 percent decline in Playboy magazine ad pages in the 2009 third quarter, when the company will publish one fewer issue than in the prior year period.
During a conference call this morning to discuss the results, Flanders said that the magazine will continue to play a critical role in the company's success, but will have to be sustained by a smaller revenue base. "I'm not convinced that the magazine must be a money loser," he said. "We can and will do a better job on that front."
Second quarter revenues in Playboy's entertainment business were $23.8 million, down from $29.6 million during the same period last year (but managed to post a $2 million income gain). Second quarter licensing group revenues and segment income were $10.1 million and $4.8 million, down 14 percent and 22 percent, respectively, from the second quarter 2008.