Playboy Reports $3.1M First Quarter Loss

Publishing revenues fall 14 percent.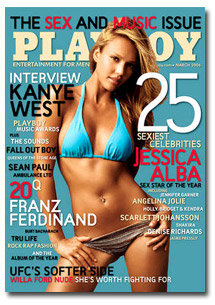 Playboy Enterprises, parent company of Playboy magazine, this morning announced its first quarter 2008 revenues were $78.5 million, down 8 percent over the same period in 2007. The company reported a net loss for the quarter of $3.1 million, down from a $1.5 million profit in 2007.
Revenues in the publishing division fell 14 percent to $20.1 million, down from $23.3 million during the same period last year. The company also said it expects second quarter ad pages to be down about 5 percent.
According to first quarter Publishers Information Bureau numbers, Playboy's ad dollars were down 13.4 percent to $16.3 million. Ad pages dropped 4 percent over the quarter. In February, the company said it expected first quarter ad revenues would be down
by as much as 30 percent.
Playboy Enterprises chairman and CEO Christie Hefner said the company's publishing and domestic entertainment businesses "continue to face unprecedented change in the way consumers access and use media content. We believe we are making good progress in streamlining our operations and improving the future performance prospects of these businesses."
Hefner noted also the company's plans to redesign Playboy.com to "accelerate growth of that business, expand our total audience and create a better portal to our other properties."
First quarter revenues in Playboy's entertainment business were $2.7 million, down from $4.3 million during the same period in 2007. Revenues in its licensing business were $6.7 million, down from $10.5 million last year.
Meet the Author
---