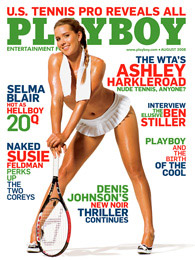 During a conference call today announcing Playboy's fourth quarter and year-end 2008 financial results, interim chairman and CEO Jerome Kern was asked by an analyst if, now that longtime CEO Christie Hefner is no longer with the company, it will consider a sale and/or changes in the strategic direction of Playboy magazine.
"Yes, we're open to discussions," Kern said.
Playboy reported a year-end net loss of $156.1 million in 2008, compared to a net gain of $4.9 million during 2007. The majority of that loss came during the fourth quarter, which saw a profit loss of $145.7 million due, in part, to $157.2 million in impairment and restructuring charges.
Revenue in 2008 was $292.1 million, down 14 percent from $339.8 million the prior year. Year-end revenue from Playboy's publishing division was $84.5 million, down from $93.8 million in 2007. The company said it expects to report a 27 percent decline in advertising revenue in its publishing division in the first quarter of 2009.
"Our financial performance is not reflective of [Playboy's] potential," Kern said in a statement. "Over the past several months, the company has accelerated the pace of expense reduction designed to bring our cost structure in line with current market realities and the positioning of our businesses going forward."
Kern stepped in as interim CEO in December after Christie Hefner, daughter of founder Hugh Hefner, announced plans to step down from the chief executive role by the end of January. (Hefner received a $2 million severance payment upon her departure, the company said.)
Playboy also expects to incur a $5 million non-cash impairment charge during the first quarter and a $9 million charge over the first half in relation to the closing of its offices in New York, the company said.
Late last month, Playboy said it was closing its New York offices and would combine its print and online editorial operations. As part of the integration, Jimmy Jellinek—former top editor of Maxim who served as senior vice president of Playboy's digital content division—was promoted to editorial director, overseeing the company's combined editorial content. Chris Napolitano, who served as editorial director of the print magazine, stepped down and will now serve as editor-at-large.
In October, the company said it closed its DVD business and eliminated 80 positions—including 25 open positions.