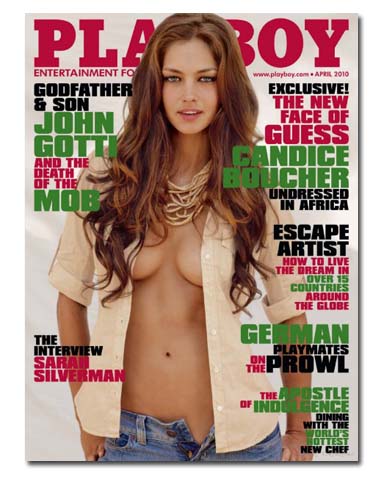 Cost reductions helped curb Playboy's loses through the first quarter and more reductions apparently are on the way. Parent company Playboy Enterprises Tuesday said it is further "downsizing its organizational structure" in another step toward becoming a "brand management" company.
According to Playboy Enterprises CEO Scott Flanders, the company's goal is to "transition Playboy to a brand management company and, in so doing, to more cost-effectively monetize our powerful brand and assets.  As we proceed through this transformation, we are aggressively looking for opportunities to streamline our operations, consolidate functions and reduce overhead expense."
"We will focus on what we do really well, namely building the brand, protecting the brand and creating its content," a Playboy spokesperson tells FOLIO:.
As a result of the restructuring, Playboy expects to record a restructuring charge of roughly $3 million during second quarter.  The spokesperson declined to say how many staffers have been let go, or from which departments.
"The downsizing announced today is not a reflection of our employees' talents and work ethic, but rather due to the overall change in the company's strategic direction," Flanders says.
As of March 31, Playboy Enterprises employed 573 people, the spokesperson says, down from 651 people on March 31, 2009.
During the first quarter of 2010, Playboy Enterprises reported a net loss of $1 million compared to a $13.7 million net loss during the same period last year. "The extensive cost-reduction initiatives implemented over the last 18 months were responsible for the improved first quarter results and contributed to the significant narrowing of losses in our domestic magazine, the increase in Entertainment Group operating margins and the Licensing Group returning to its highest level of profitability since mid-2008," Flanders said at the time.
Flanders also said then that the company was transitioning to a brand management company.
Late last November, Playboy farmed out the magazine's advertising sales, circulation, marketing, production and all other business operations to American Media Inc., while continuing to oversee its editorial operations.