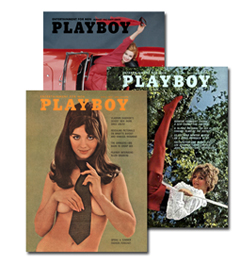 Time Inc.'s Sports Illustrated isn't the only magazine that's looking to capitalize on the popularity of its covers.
Chicago-based Playboy is putting together a book, "Playboy's Greatest Covers," that will feature the magazine's most noted covers over the brand's nearly 60-year existence. The project is being headed by managing editor Lee Froehlich.
In the works for about three years, Playboy calls the book a "high-end coffee table book" that will feature roughly 300 covers between 1953 and today. In addition, the book will include editorial content providing background on particular covers as well as a foreward written by actress and Playboy model Pamela Anderson.
"Playboy's Greatest Covers" will be published by Barnes & Noble, Playboy says, and is expected to hit book stores in October 2011.
Earlier this month, Sports Illustrated debuted "Sports Illustrated: The Covers," a 208-page collection of more than 2,500 color photographs. According to SI group editor Terry McDonnell, the $29.95 book is more than just a simple collection of covers. It "chronicles the changing sports panorama and landscape over the last 55 years," he says. "An SI cover often becomes an instant pop icon and this book features some of the most loved, memorable and controversial cover images over the decades."