Playboy Makes Digital Archive Free

Searchable back issues available at no cost—and no age verification.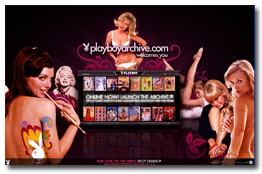 Playboy went live yesterday with a digital version of its archive, allowing users to instantly view more than 50 back issues of Playboy for free.
Readers can browse, search and read a compilation of digital back issues from 1954 to 2007, with each digital issue appearing exactly as it did in print, with advertisements in tact.
"Playboy has an incredibly rich history and an intensely loyal readership," Playboy founder Hugh Hefner said in a statement. "This is the perfect opportunity to offer them something they have always wanted and also a great way to allow a whole new generation to easily explore the magazine."
Interestingly, users do not need to verify their age to access the
archive. They do, however, have to download Microsoft's Silverlight
software.
In 2007, Playboy launched fully searchable digital archives of the magazines on DVD-ROM produced by Bondi Digital, which also developed the platform for "The Complete New Yorker." Playboy's new online archive was also produced with Bondi.
A rep for Playboy said the selection of 53 issues, which mirrors the New Yorker model, was done by a pattern of cycling through by issue month and year, instead of random selection (digitally archived issues begin with January 1954, February 1955, March 1956, etc.). Currently, 1950s titles are available through Playboy's Cover to Cover box set, with the '60s to roll out in the near future.
Meet the Author
---