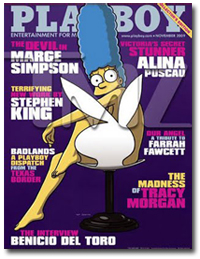 While the financial situation at Playboy parent Playboy Enterprises isn't great, it also isn't as bad as it has been. The company today reported a $51.3 million year-end net loss for 2009, compared to a $160.4 million loss the prior year. Revenues declined more than 17 percent to $240.4 million.
During the fourth quarter, however, the company reported a net loss of $27.8 million versus a $146.8 million loss during the same period in 2008. Revenues were $60.6 million, down about 13 percent from the prior year period. Both quarters (2009 and 2008) included impairment, restructuring and other charges ($28.6 million in Q4 2009, $157.2 million in Q4 2008), the company said.
Meanwhile, Playboy magazine reported a profit during the fourth quarter, the company said, with $18.6 million in revenues, including sales from its international editions and other special issues. Playboy said the profit was driven in part by its decision to publish a combined January/February issue and increased newsstand sales of its November "Marge Simpson" issue [pictured].
Overall, the print/digital group reported a fourth quarter income of $2.5 million, compared to a loss of $400,000 during the same period in 2008. Revenues were down 14 percent to $28.2 million.
Fourth quarter digital revenues slipped slightly to $9.6 million versus $10.7 million during the same period last year. Playboy attributed the loss to lower paysite and advertising sales. Licensing group revenues jumped 10 percent to $8.7 million during the period.
According to Playboy CEO Scott Flanders, the company is still "a long way from effectively monetizing the power of the Playboy brand … Although each of our businesses has promising opportunities, our operations are subscale in industries dominated by large players. In our business, size matters. Our mission is to create a stronger and significantly more profitable company."
Flanders said in a statement that Playboy will continue to refocus management by keeping core creative operations in-house but to farm out others to partner companies, effectively reducing Playboy's cost centers and overhead. He said he expects that the media business will remain challenged this year although the magazine will continue to benefit from an agreement it announced in November that passed the title's advertising sales, circulation, marketing, production and all other business operations to American Media Inc.
In 2009, Playboy's adjusted EBITDA grew to $19.3 million compared to $13.6 million in 2008.
"In total, we expect double-digit growth in [licensing] segment income for 2010, but, more importantly, our goal this year is to position the company for much greater future profitability in 2011 and beyond," Flanders said.