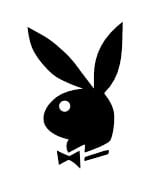 Playboy Enterprises announced a major change for its magazine next year—no more nudity inside the book. In addition, the magazine will undergo a total redesign, which will debut with its March 2016 issue.
Although nudity is out, the brand will continue to feature (clothed) Playmate models in every issue, along with its typical mix of lifestyle editorial content. The new design will include an increased trim size and heavier paper stock.
The brand began its "safe-for-work" push when it retook control of its site (from a licensing deal) last year. That strategy paid off; monthly site traffic has increased 400 percent since. That move also decreased its median reader age from 47 to 30, indicating the brand is looking to capture more Millennial readers.
Playboy CEO Scott Flanders told The New York Times that the change is an acknowledgment that nudity is, thanks to the web, ubiquitous.
"That battle has been fought and won," he tells The Times. "You're now one click away from every sex act imaginable for free. And so it's just passé at this juncture."
Of course, a big chunk of revenue for Playboy Enterprises is in licensing, which includes international editions. The company tells Folio: sister title min that some international editions will continue to publish nudity in their respective issues.