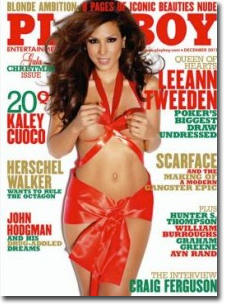 In the oft-surprising, constantly evolving world of social media, Facebook is still seen as today's most influential social platform. At last week's min day Digital Summit, Hearst Magazines EVP/GM John Loughlin referenced the 30 billion pieces of content shared on FB in October, as well as its role as the second largest search engine on the web, after Google.
Well aware of the opportunities presented by these stats, publishers are investing a significant amount of resources in experimenting with and implementing attention-garnering strategies on the site. According to recent data from MagazineRadar, it appears Playboy has found the secret sauce. As of November 21, the adult entertainment mag's page boasted 5,582,512 likes, making it the most popular magazine page on Facebook.
Also in attendance at min day was Matt Gibbs, director of social media with Playboy Enterprises. There, he addressed the success of Playboy on the social platform.
Gibbs cites the integration of events in popular culture through sponsorships (recent tie-ins include box office successes like Bad Teacher and The Hangover Part II), as well as interaction with Playmates through FB, as proven attention getters. Playmates are encouraged to actively engage with fans through candid Q&A's and link back to Playboy's main page. This linking has gained Playboy's FB page hundreds of thousands of fans, according to Gibbs.
Following in a distant second to Playboy's +5 million fans is Hearst's Food Network Magazine, which had 2,172,187 likes as of November 21. Rounding out the top 3 is Conde Nast's Vogue, totaling at 1,770,491 likes.
See below for the complete top ten list of most "liked" magazines on Facebook, per MagazineRadar.