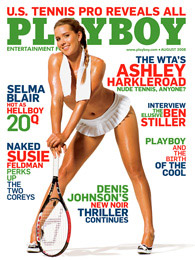 In a memo to staffers that was filed, along with a financial report, with the Securities and Exchange Commission yesterday, Playboy Enterprises chairman and CEO Christie Hefner announced a revised cost savings initiative that will result in the elimination of 80 positions and the closing of the company's DVD business.
Twenty-five of the eliminated positions were open, Hefner said in the memo. It was not immediately clear how many of the cuts came from the company's magazine business. A Playboy spokesperson declined to comment other than to say "all of our businesses were affected."
In the filing, the company indicated that it is looking to reduce company-wide expenses by $12 million, up from $10 million which it announced as part of its second quarter financial report. At the time, Playboy reported a $5.2 million net loss for the first half of 2008, down from a $3.4 million net profit during the same period in 2007. First half revenue was $151.9 million, down about 11 percent.
Playboy Enterprises said it will incur a $2 million restructuring charge and will take reserves of approximately $4 million against archival material and a receivable. The $6 million in charges will be accounted for during the third quarter, which ended September 30.
In addition to shutting down its DVD business, some of the cost-saving changes will be to bring the magazine's pre-production work in-house, outsource newsstand sales for Playboy and its special editions, and "significantly reduce travel and entertainment, as well as premium and overtime," Hefner wrote in the memo. The company also is looking to expand its digital asset management system.
Playboy is expected to release its third quarter financial results next month. Hefner, according to the memo, expects to report a quarterly loss.