Playboy Editorial Operations Relocate to Los Angeles

Move follows closing of NY offices in 2009.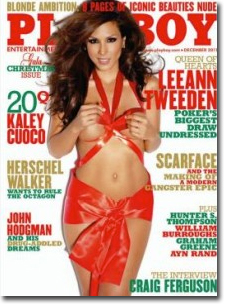 Playboy magazine will relocate its editorial, art and photo departments from Chicago to Los Angeles in April 2012, ending an almost 60-year occupancy in its Midwest headquarters.
"Some of the magazine's employees have been asked to relocate, while others have been asked to stay on in Chicago to ensure a seamless transition. Open key positions will be hired out of Los Angeles," says Playboy Enterprises spokesperson Theresa Hennessey in a statement. She adds that no final decisions have been made regarding the remaining Chicago departments, which include human resources, public relations, legal, accounting and information technology.
This latest move—initially reported by Time Out Chicago—is part of a continual shift west for Playboy. In 2009, the company closed its New York offices and relocated a number of its licensing, editorial and publishing positions to Chicago. The magazine's advertising sales, circulation, marketing, production, distribution and all other business operations were also outsourced to American Media Inc.'s Publishing Services division that year, in which the company's interim CEO Jerome Kern told FOLIO: that the company had taken roughly $18 million in annual personnel-related costs out of the company, reducing headcount by 25 percent. In 2008, the company announced the elimination of 80 staff positions, as well as the closing of its DVD business.
Earlier this year, Playboy Enterprises founder Hugh Hefner took the company private at $6.15 per share, in a deal worth roughly $207 million.
Playboy's editor Jimmy Jellinek reportedly moved to Chicago in August. The company's current CEO Scott Flanders also lives in Southern California.
Meet the Author
---