Playboy Cuts October Cover Price to 60 Cents

Latest newsstand ploy ties in to early 60s theme and promotes upcoming TV show.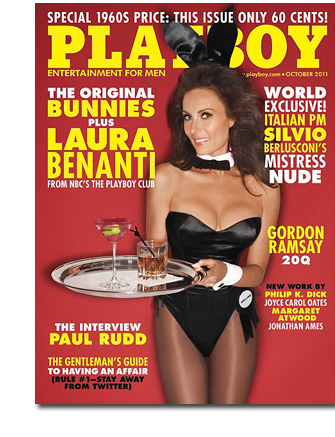 The October issue of Playboy, on newsstands this Friday, will cost only 60 cents. The throwback pricing is a tie-in to the issue's circa 1961 styling to commemorate the launch of the first Playboy Club and the upcoming TV show "The Playboy Club".
In addition to its 50-year-old cover pricing, the October issue features "The Playboy Club" actress Laura Benanti on the cover in a clear nod to the September debut of the show.
The brand hasn't been shy about making statements on the newsstand.
For the July issue, Hugh Hefner affixed a sticker on newsstand covers that read "Runaway Bride in This Issue!" referring to cover model and then-fiance Crystal Harris who got cold feet and ditched their June wedding. The sticker wasn't simply a revenge move, the top cover lines read "America's Princess: Introducing Mrs. Crystal Hefner."
And late last year, Playboy ran a Wonka-like golden ticket contest in newsstand copies of the December issue. Ten copies had the ticket, which won the recipient access to Playboy's annual Midsummer Night's Dream party at the Los Angeles Playboy mansion.
While this October issue's bargain cover price won't likely be recouped in volume sales, the issue is up in advertising, according to reports. Playboy's editorial director Jimmy Jellinek told Reuters that ad pages are up 70 percent for the issue compared to last year.
The golden ticket issue last December sold about 130,000 single copies, the best issue in the second half of 2010, but fell short of the January/February (205,000 copies) and June (163,000), issues, per ABC filings.
Meet the Authors
---