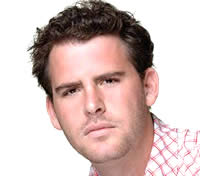 Playboy Enterprises said it will combine its print and online editorial operations. As part of the integration, Jimmy Jellinek—former Maxim editor-in-chief—was promoted to editorial director, overseeing the company's combined editorial content. Jellinek [pictured] had served as senior vice president of the company's digital content division.
Chris Napolitano, who served as editorial director of the print magazine, will now serve as editor-at-large and will be based in New York, Playboy said.
Playboy also said it will sublet its existing office space in New York and relocate "a small number" of licensing, editorial and other publishing positions to its headquarters in Chicago. It was not immediately clear if layoffs were associated with these changes. A spokesperson did not immediately return a request for comment.
Playboy said it expects to report a $4 million restructuring charge in the fourth quarter related to the cost reduction initiatives and a possible write-down of $100 million. The company said it also expects to report additional restructuring charges over the first half of 2009 associated with continued streamlining efforts—including the "elimination of additional positions and reduction of other expenses."
The changes at Playboy come a little more than a month after founder Hugh Hefner's daughter, Christie Hefner, announced her planned resignation as chairman and CEO (effective January 31). Jerome Kern, a member of its board of directors, will serve as interim chairperson while the company searches for a replacement.
Playboy's ad pages were down 5.7 percent in 2008, according to Publishers Information Bureau figures.