Playboy.com Readies Significant Redesign

More video, blogs, less distinction between Web and mag content.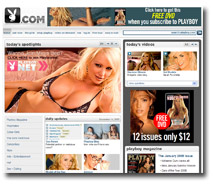 The editors at Playboy.com are hoping that a significant redesign of the site, scheduled for the second quarter of 2008, will help ramp up its number of monthly visitors-more than the six to eight million it generates now.
The new site will be a "more blended model" with less distinction between content tied to the magazine and Web-only components, says Tom Hagopian, executive vice president and general manager of digital media at Playboy Enterprises. The redesigned site will focus on community with more audio, video, blogs, and opportunities for user-reaction.
"We've been successful with a pay model," says Hagopian. "[But] some of the strategies of others have been based on an inability to get people to pay."
Social networking will also play an important role going forward, he says. PlayboyU, a social networking site for college students that launched in August, includes members from more than 500 schools.
Playboy's online business will continue its attempt to maximize on multiple revenue streams merchandise sales, ads and subscriptions. Hagopian says that a lot of content will be free, but certain content will follow a paid, subscription-based model.
The company is also expanding its mobile business, with mobile content available in more than 80 countries.
"The magazine has been the flagship of the brand, but people should know that Playboy.com has much more original components that are not from the magazine," says Hagopian.
Meet the Author
---