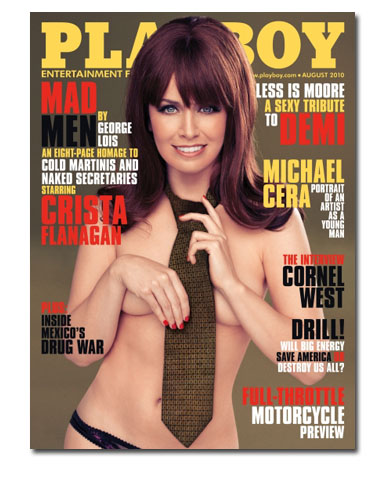 During the company's third quarter earnings call Tuesday, Playboy Enterprises CEO Scott Flanders told listeners that he had "nothing new to add at this time" in regard to Playboy founder Hugh Hefner's offer this summer to purchase all of Playboy Enterprise's outstanding shares of Class A and Class B common stock at $5.50 per share in cash.
"Mr. Hefner has not discussed with me his reasons for making the purchase offer," Flanders said in response to a question about whether Hefner's offer perhaps is a rebuff of management. "He wants a strong financial partner for the future" as certain of the company's bonds mature. Flanders added that he is not included in board discussions concerning the offer.
"We haven't necessarily agreed on everything," he said about his relationship with Hefner, who currently owns 69.5 percent of the company's Class A stock and 27.7 of its Class B stock. "But if anything it's been more a matter of 'how' than the 'what.'"
Meanwhile, the company reported a $27.4 million net loss during the third quarter, driven predominantly by $25.8 million in impairment and restructuring fees. Late last month, Playboy announced that it would incur a non-cash write down "in excess of $20 million," as well as $1 million in bad debt and a debit balance of approximately $3 million related to a legal dispute with DirecTV over programming payments.
"I want to assure everyone that we are not standing still, that we are making significant progress to rectify ill-advised domestic TV deals" of previous years, said Flanders.
Through the first nine months, Playboy reported a net loss of $33.8 million on $160.2 million in revenue. During the first three quarters last year, the company generated $179.8 million in revenue and reported a loss of $23.5 million.
Print Magazine Stabilizes
The company's print/digital segment reported $21.7 million in revenue during the third quarter compared to $22.9 million during the same period last year. Of that, the print magazine generated $10 million in sales, up slightly from $9.4 million last year. Playboy published three issues during the third quarter this year compared to two last year. Circulation revenues jumped by more than 20 percent.
Despite the segment's slightly lower revenues, profits for the quarter totaled $1.3 million versus $400,000 during the third quarter of 2009.
"We're ahead of schedule on breaking even," Flanders said about the magazine. "We're delighted that we did so in Q3 [it was expected that the magazine would stabilize next year]. We will invest in the magazine aggressively. The plan, as we reach break-even, is to invest more money in covers, content and promotion in order to ensure that the magazine reaches full potential as the ambassador of the brand."
Flanders said the company plans to announce a special newsstand promotion for the magazine on Wednesday, but did not offer any further details about it.