Playboy CEO: '2008 Has Been and Will Remain a Difficult Year'

First half revenue down 11 percent; reports $5.2 million net loss.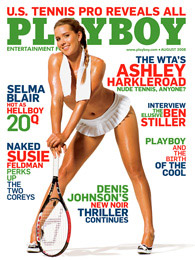 Playboy magazine parent Playboy Enterprises today reported $151.9 million in revenue for the first half of 2008, down about 11 percent over the same period in 2007. Second quarter revenue was $73.4 million, down 14 percent over the same period last year.
The publisher reported a net loss for the first half of $5.2 million, down from $3.4 million net profit during the same period in 2007. For the second quarter, Playboy posted a net loss of $2.1 million, compared to a $1.9 profit during the same period last year.
The publishing division reported $40.7 million in revenue for the first half, down from $46 million during the first half in 2007. During the second quarter, publishing revenue was $20.6 million, down slightly from $22.7 million last year. The division reported a $1.9 million loss for the quarter, an improvement from last year's second quarter loss of $2.3 million.
Playboy attributes the company-wide losses to "continued pressure on the media businesses as well as the recent sale of assets and outsourcing of operations" that the company completed earlier this year. "Traditional media are facing a secular shift as a result of changes in consumer behavior and the migration of advertisers to new platforms," Playboy chairman and CEO Christie Hefner said in a statement. "This has created a challenging environment for our print and TV businesses, which has been compounded by the current macro-economic climate."
Lower circulation and advertising revenues from the domestic edition of Playboy account for the losses in the publishing division, the company said. Playboy's ad pages for the first half were 215.7, down 2.5 percent from the same period last year.
According to Heffner, Playboy will focus on expanding its revenues, especially in its digital business. "Our goal is to use our digital platforms to drive traffic, and, as part of this effort, we will be launching a redesigned Playboy.com in late 2008. The new site will strengthen ties with our print and television content assets as well as enhance the advertising environment."
On Tuesday, Playboy
appointed
former Maxim editor Jimmy Jellinek to its newly-created position of senior vice president of digital content, digital media.
Meet the Author
---