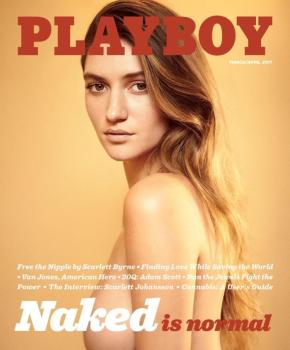 It seems that not enough people read it for the articles, after all.
A year after Hugh Hefner's legendary men's magazine made waves by dropping the nude pictorials that defined its brand for six decades, Playboy revealed today its decision to call off the experiment and return to its roots with a March/April issue bannered, "Naked is normal."
"I'll be the first to admit the way in which the magazine portrayed nudity was dated, but removing it entirely was a mistake," read a statement released on social media by Cooper Hefner, who took over as Playboy's chief creative officer in October. "Nudity was never the problem, because nudity isn't a problem. Today, we're taking our identity back and rediscovering who we are."
That's quite a backpedal from the October 2015 assessment by then-CEO Scott Flanders, who spearheaded the magazine's non-nude makeover in an effort to reach younger audiences.
"You're now one click away from every sex act imaginable for free," Flanders told The New York Times, contemplating Playboy's place in an increasingly digital world. "And so it's just passé at this juncture."
Flanders stepped down as CEO in May after six years at the helm, and just three months after a Wall Street Journal report indicated that the elder Hefner, alongside majority shareholder Rizvi Traverse Management, was exploring a sale. That same report indicated that while the company's media assets remain lucrative — pulling in $38 million in revenue in 2015 — far more valuable is its brand licensing business, accounting for nearly 60 percent of overall revenues. Then-chief creative officer Cory Jones was let go in July.
Early returns indicated that the decision to pull nudity was a prudent one; single-copy sales jumped 28 percent in the first six months of 2016 over the same period the year before, according to data from the Alliance for Audited Media. Unfortunately for Playboy, subscribers account for the overwhelming majority of its circulation, which tumbled 23 percent in the same period, to 816,926. To put those numbers in greater context, Playboy sold 7.2 million copies of its November 1972 edition, and its circulation topped 3 million as recently as 2006.
To Cooper Hefner's credit, the 25-year-old heir says he was averse to the decision to cut nudity from the start.
"I do not agree with the decisions and the direction that the company is currently going in," said Cooper in a candid interview with Business Insider last week, before heavily implying that he was isolated from the company board due to disagreements with Flanders.
"Millennials and Gen-Y didn't view nudity as the issue," Hefner elaborated. "The issue was the way in which nudity and the girls were portrayed."
In a lengthier editor's letter posted on Playboy.com, Hefner details his father's role in America's sexual revolution before seemingly equating the magazine's celebration of nudity to other cultural norms being threatened in the modern climate, like religious tolerance, healthcare rights, and preserving the First Amendment.
The March/April issue, on newsstands now, features cover model Elizabeth Elam, as well as a profile of CNN commentator Van Jones, interviews with Scarlett Johansson and Adam Scott, and an essay by Hefner's fianceé, actress Scarlett Byrne.
Whether or not Cooper Hefner will extend his efforts to pulling the Playboy Mansion off the market remains to be seen.