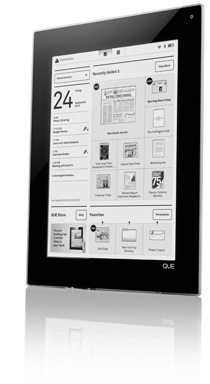 For the second time this year, Mountain View, California-based Plastic Logic has delayed the release of its Que ProReader device—this time possibly indefinitely.
"We need to let you know that since your unit will not ship on June 24 as planned, our automated ordering system has automatically canceled your order," the company wrote in an e-mail to customers who pre-ordered the e-reader. The message did not indicate when the release date has been pushed back to.
A Plastic Logic spokesperson did not immediately return an e-mail seeking comment.
Plastic Logic announced its plan in 2008 to launch a thin, lightweight e-reading device. Unlike other similar devices, the ProReader was expected to target business users by supporting documents in Microsoft Word, Excel and Powerpoint formats as well as Adobe PDFs, along with newspapers, magazines and books.
At the Consumer Electronics Show in January, Plastic Logic pegged a ship date of mid-April. By March, the company said it was pushing the release back to sometime this summer. According to Technologizer editor Harry McCracken, the company has been "overly ambitious" about its release schedule from the start.
"The Que is in the odd situation of being a product designed and announced in the pre-iPad age, but which won't see release until long after the iPad did," McCracken tells FOLIO:. "What looked pretty cool back in 2008 now looks like a device from a different era. Perhaps they're making some tweaks to reflect that."
With an 8.5 X 11 inch touchscreen display, two models of the Que ProReader have been marketed: a 4GB version for $649 and a 8GB/3G model for $799.
Comparably, Apple's 16GB iPad tablet (9.7-inch high resolution touchscreen) retails for $499. Its 16GB/3G model sells for $629.