Pivotshare Raises $1 Million Series A Round

Funding will help scale turnkey digital content sales platform.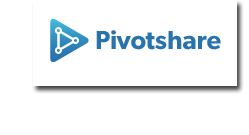 Pivotshare, an Irvine, California-based startup that provides a turnkey platform for selling digital content direct to consumers, has raised $1 million in a series A round, led by Townsgate Media.
If the Web has been the great democratizer in allowing anyone to be a publisher and disrupting, to a degree, traditional media's dominance in audience and content, it's services like Pivotshare that are now chipping away at the revenue side of the equation—at least for publishers of multimedia content.
The service allows independent content producers to upload and stream or otherwise make their content available directly to consumers on a platform that also handles subscription or pay-per-view sales, user accounts, payment processing and analytics.
Customers can set up a channel, complete with social tools, and also get other publishers to contribute content to the channel. Channels can also be networked to provide greater scale within a particular vertical.
The company is targeting entertainers as a customer category, but it's also going after conference speakers and event producers themselves to upload and sell video or audio-based content back to attendees. The platform also has b-to-b applications in that industry experts can also set up a channel to hawk their expertise or consultancy content.
The company does not charge a set-up fee or ongoing licensing fees, but rather takes a cut of revenues.
Meet the Author
---