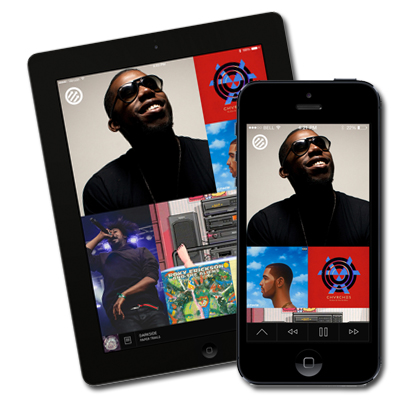 Most successful content sites are monetizing with sheer volume now, but Pitchfork is betting there's still a place for lean-back engagement.
The indie music pureplay is launching a free mobile and tablet app, Pitchfork Weekly, in the style of a weekly magazine to connect readers with content they may have missed.
Chris Kaskie, president of Pitchfork, admits the unfiltered stream of content can be overwhelming-they publish "hundreds of thousands of words" plus hours of multimedia content each week. The app is a way to counteract that deluge. It's a "return-to-your-roots" effort that aims to put value back on quality over quantity.
Readers will get a portion of each week's content available for offline viewing that includes reviews, features and columns, along with select tracks, podcasts and video programming.
"Everything is moving so quickly, everything becomes disposable," Kaskie says. "We spend a lot of time and resources and TLC creating content. We want to make it less delete-able."
Beyond its "best-of" content strategy, the app's revenue model adds a layer to the experiment. Pitchfork.com sells display units on a CPM basis; Pitchfork Weekly will be single-sponsor supported. Lexus has signed on through Q1 of next year.
Kaskie says they're still playing with the details, but being on a device allows for enhanced brand executions like pulldowns and swipes.
"Just like we are with content, we want to be innovative with our partners and advertisers," he says. "We want it to be different from Pitchfork.com and add another source of value."
The ad formats are new, but this isn't Pitchfork's first attempt at an app. The group releases apps for its two annual music festivals (those serve a much different purpose though, Kaskie notes: they're service-oriented) and has also worked on content apps in the past that never made it to market.
"We've spent years figuring out how, or if, an app would make sense but we've never been happy with it," Kaskie says. "We couldn't replicate the online experience that you could have in a browser environment. There were design and [technical] limitations, especially a few years ago. We had trouble replicating the comprehensiveness of Pitchfork."
Pitchfork's app follows several other brands that have launched curated weeklies. As Mashable notes, The Atlantic and Huffington Post have rolled out similar products.
Pitchfork Weekly will be available on iOS devices this month and on Android platforms by early 2014.