Pinterest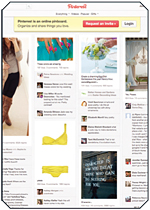 This online pin board is attracting serious attention among publishers as a significant source of traffic and "the next big thing" in social media.
Launched in March 2010, social media site Pinterest—a virtual pin board that allows users to clip photos from across the Web around a subject of interest—has ranked high on people's watch lists to be the next Facebook or Twitter. Now, it is emerging as a significant aid to publishers looking to push their content, and their brands, to a wider audience.
Pinterest's global engagement metrics skyrocketed in 2011 with a remarkable 512 percent increase within a six month period, with visitors spending an average of 72.1 minutes on the site, according to comScore, which measured its monthly unique visitors at about 11.7 million in January 2012. For magazine brands like Meredith's Better Homes & Gardens and Time Inc.'s Real Simple, the site has become a top traffic driver, ahead of Facebook and even Google in some cases, thanks to the fact that all pins link back to their source. According to data service RJMetrics, MarthaStewart.com, BHG.com and RealSimple.com are among the top twenty pin sources, trailing behind Etsy, Google and Tumblr, a further sign that magazine brands—particularly in the women's space—stand to be a formidable presence on the site.
"As a visual brand where imagery and ideas are so central to what we do, we are extremely excited about Pinterest," Gayle Butler, Meredith National Media Group EVP and BHG editor-in-chief, told Folio: last month. Her brand has drawn more than 25,000 Pinterest followers and recently launched a contest, called "Pin & Win", to drive further engagement.
Especially promising is the prospect of drawing new audience. It may also be a new form of revenue. According to the company's Lifestyle Digital Group general manager Tina Imm, Time Inc.'s sales and marketing teams are now exploring ways to monetize pins with advertisers.
VITAL STATS: According to comScore, Pinterest draws about 11.7 million users per month, who spend an average of 72.1 minutes on the site. Women's magazine brands make up three of the top twenty sources of "pins," according to RJMetrics.
Meet the Author
---