Pink Magazine Shuts Down Print Magazine

Digital properties and events will continue.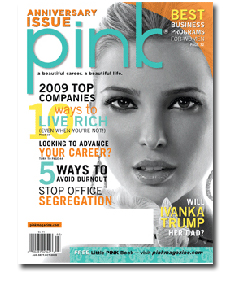 Pink, a five-year-old, 100,000-circ magazine targeting professional women, has announced it will no longer publish the print edition. Instead, the company will divert resources into its digital and event properties.
The August-September issue, currently hitting the newsstands, will be its last. The magazine struck a deal with Meredith to fulfill remaining subscriptions with More magazine. "We've always loved More," said CEO Cynthia Good in an e-mail. "And the feeling (so I've heard) has been mutual. We have been reaching a similar demo so it's a great fit! Our online audience skews a bit younger."
In the meantime, Good plans to plow resources back into the digital properties, which, she said, is where the real opportunity is. The Little Pink Book e-newsletter currently reaches 750,000 subscribers and, said Good, has an open rate of five times the industry norm. Going all digital, says Good, is a decision based on reader and advertiser feedback. "Little PINK Book actually reaches more women than the magazine  ever did. Putting our full resources into LPB results from the demands of our business partners and our readers."
The staffing impact, according to Good, is minimal, with some positions being "moved around."
These days, companies often hold out hope for reintroducing a print brand when the economy gets better. AMI, which recently shut down Mom & Baby, plans to resurrect it when business turns around, carefully noting that the magazine is merely suspended, not closed. Not so for Pink. "I believe the magazine business as we know it is over, and it's time to change the media in order to save the message" said Good in a statement.
Going forward, Good plans to double the size of its audience by the end of 2009.
Meet the Author
---