Pink Editor Convinces City 'Men at Work' Signs are Discriminatory

Cynthia Good takes gender issue to the street.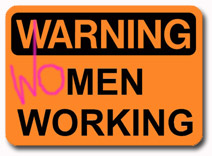 Score one for magazine editors standing up for gender equality, even with a bottle of spray paint in-hand.
Cynthia Good, founding editor of Atlanta-based women's business magazine Pink, has reportedly convinced city transportation officials there to discontinue using "Men at Work" and "Men Working Ahead" road work signs and replace them with more gender-neutral signs that read "Workers Ahead."
The changes come after police apparently visited Good's office last month on a complaint that she spray painted the letters "wo" onto a "Men at Work" sign. Whether or not she was the culprit is unclear, but Good began a letter-writing campaign, complaining about the signs to the mayor and Georgia governor. Her efforts paid off.
And, it seems, Good's ambitions lay far beyond just Atlanta. "We're calling on the rest of the nation to follow suit and make a statement that we will not accept these subtle forms of discrimination," Good told the Atlanta Journal-Constitution.
So, good for Good. We're all about gender equality here at FOLIO:—in the magazine industry, and elsewhere. We wish her luck.
Meet the Author
---