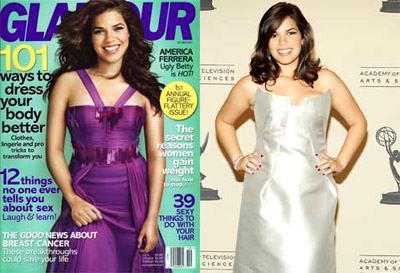 For its October issue—the "First Annual Figure Flattery" issue—Glamour put America Ferrera, star of ABC's Ugly Betty, on its cover. For Jezebel, Gawker Media's "girlie blog," it was bit too much "figure flattery." The site ran a post under the headline "Photoshop of Horrors" juxtaposing Glamour's cover with a photo of Ferrera at the Emmy Awards the same week the magazine hit newsstands. (The apparent slimming recalled a similar incident in which CBS's in-house magazine trimmed Katie Couric by about three sizes.)
A Glamour spokesperson denies any such trimming. "America was shot for the cover in June, and as she says in the article, she's a size 6/8. There was no slimming done to the cover."
Photoshop manipulation on magazine covers is nothing new. George Karabotsos, design director at Men's Health, points to a 1952 National Geographic cover that moved the Pyramids closer together. But recently the practice has teetered into dangerous territory, with Glamour's Ferrera and Men's Fitness' blatant enlargement of Andy Roddick's biceps—which Roddick himself exposed as fake on his blog ("little did I know I have 22 inch guns and a disappearing birth mark on my right arm … whoever did this has mad skills") and led to the resignation of the magazine's designer—as the most egregious examples.
Roddick isn't the only victim to cry foul. Kate Winslet, after seeing herself on the cover of a British GQ: "I don't look like that, nor do I desire to look like that."
Sometimes it's not the body that is manipulated. In May, In Touch touched up Angelina Jolie's veiny arm for its cover. Editor Richard Spencer was unapologetic: "You're right, we softened those veins. The arm was very, very veiny … I think they can forgive it for the cover — unless it is a story specifically about their body. This was about her plans to expand her family."
But what about making your cover photo fit the story? In June, Star magazine used a photo of Jennifer Aniston carrying what appeared to be a manuscript for a cover story on the actress' alleged "$5 Million Tell-All!" One problem: the manuscript was actually an art catalog.
Indeed, cover manipulation has become so widespread, says Karabotsos, that some magazines even include a budget line for retouching.
How Much is Too Much?
"Retouching should be like wearing light makeup, not to the point where you can't recognize the girl anymore," says Self art director Petra Kobayashi. "We retouch to make the models look bigger, healthier."
Karabotsos agrees. "We look for the ideal celeb or model for our magazine—a regular guy to have a beer with. He can't be too perfect, too retouched," says Karabotsos. "A reader could think, 'If the cover's not real, maybe the info in the magazine isn't that real."
This is especially true with news magazines, says Karabatsis. Both Newsweek—which plopped Martha Stewart's head on a different body for its "Martha's Last Laugh" cover—and Time—which caused a literal outcry after placing a tear on Ronald Reagan in March—faced criticism for publishing manipulated covers.
The National Press Photographers Association called Newsweek's treatment of Martha a "major ethical breach."
"You're a news organization," says Karabotsos, noting that Newsweek has since changed their approach by disclosing photo illustrations like Martha's on the cover.
But even transparency doesn't translate to trust, Karabotsos says. "We go to magazines to bring us the world. They're bringing us a modified world that doesn't exist? Can we trust them?"
"You have to think," adds Kobayashi, "Where does reality start?"