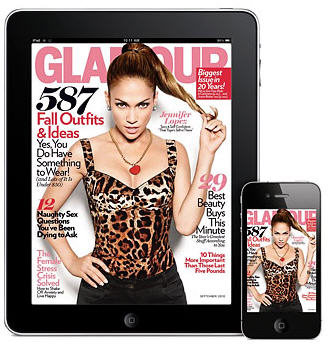 Not long after media and information private equity firm Veronis Suhler Stevenson released its annual communications industry forecast, I spoke with partner Hal Greenberg about the firm's projections for consumer and trade magazines through 2014. In regard to consumer publishing, Greenberg said all eyes will be on how the flood of e-readers to the market will continue to affect business moving forward.
"What will be interesting is what impact the iPads and Kindles of the world will have on consumer magazines," Greenberg said. "Right now, the subscription models aren't particularly good. But, that will ultimately change. We think they will be a significant factor over the next several years."
Greenberg, a partner of VSS Structured Capital Funds, continued, adding some thoughts on how magazines might have more success than others in making the jump to reading devices:
When you look at consumer magazines, there are all different types. You have types like Time and Newsweek, which are primarily narrative, story driven. Those are easy on the iPad. When you look at, say, a beauty magazine, the whole look of the physical magazine is very important. That, I think, will be more of a challenge on the iPad—those types of magazines might actually withstand better in print on the newsstand.

A magazine like Vogue, for instance, which is so beautiful on page, is a tough nut on an iPad. The glossy design is unique and how that makes its way to an iPad is a difficult thing. Meanwhile, a Newsweek or a Time or the Atlantic is pretty easy, actually better, on the iPad. You can easily pick the stories you want to get into versus having so many smaller elements.
Well, Vogue hasn't made it to the iPad yet, but sister title Glamour has. Like Vogue, Glamour is known for glossy pictures and multiple style elements. And still, publisher Condé Nast is excited for the app, which was built in-house and announced last week.
From Ben Berentson, Glamour's online managing director: "There has been a well-documented affinity between magazine content and the iPad. The way you interact with the device, the quality of the screen, its size and even its weight, all of that is very complementary to a magazine experience. But the iPad isn't just a static reader—it's connected to the larger world of the Web—and we think that offers great potential for giving our readers an enhanced experience beyond the kinds of multimedia extras we're already including. For example, we have special, app-exclusive tap-to-buy shopping pages that take you right to the retailer's site to buy the items that have been chosen by our fashion team.  We're also very excited about the potential of pairing Glamour.com—which is over 80 percent online original content, posts 50 times per day and has its own distinct style—with the magazine on the same device, hence our tagline: Monthly, daily, hourly. Instant Glamour gratification."
While the iPad has the potential to be a terrific viewing platform for high definition photos and rich media, that has to be reconciled with a friendly user experience. Despite its early success, we've heard Wired's iPad download is 500 megabytes, causing some readers to log out.