Pew Research: Mobile Browsing, Usage Continues to Grow

Cellular access to the Internet increases 31 percent since mid-2008.
Americans are increasingly utilizing mobile phones to perform a variety of tasks, including accessing the Internet, email accounts and downloading apps. According to new data from the Pew Research Center's Internet and American Life Project, 85 percent of American adults own a cellphone and use their devices to do much more than make phone calls.
The data that is likely most important to content creators is the information showing increased mobile usage in accessing the Internet. In 2012, 56 percent of all cellphone owners say they use their mobile devices to access the Internet—further showing the need for mobile-optimized websites. This represents a 31 percent increase since mid-2008—at the time, Pew data showed that just 25 percent of all cell phone owners performed that activity.
Newsletter distributors and email marketers are likely to see their mobile audience grow, at least according to these results. About 50 percent of all cell phone owners now use their device to access email—like Internet access, this represents a 31 percent increase since 2007.
Another activity on the rise among the mobile users is the downloading of apps—about 43 percent of all cellphone owners said they had downloaded an app to their phone this April. The number of individuals downloading apps, the report shows, increased by 21 percent since 2009. App downloading is most popular among young people, with 65 percent of 18-29 year-olds participating in this activity, followed next by 30-49 year-olds at 53 percent.
SMS marketing may not fully go by the wayside—about 80 percent of all cellphone owners send and receive text messages. Pew's data shows that large numbers of cell phone owners across all demographic groups do so, with the exception of mobile phone owners 65 and over. Texting, says the report, is nearly universal among young adults. In all, texting as an activity increased 22 percent since 2007.
These results came from two Pew Internet tracking surveys. One was conducted between Aug. 7 and Sept. 6, 2012 with 3,014 American adults—among them were 2,581 cellphone owners. The second survey was conducted between March 15-April 3, 2012 among 2,254 adults, including 1,954 cell owners.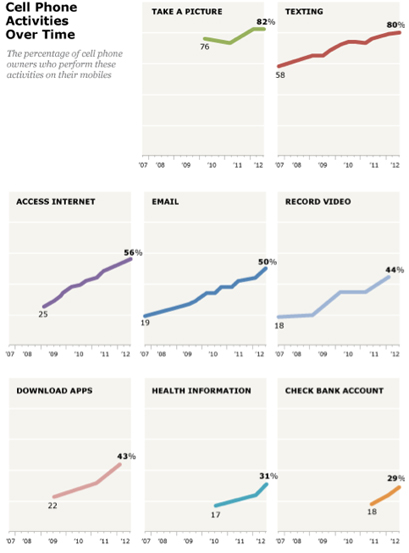 Stay updated on the latest FOLIO: news, follow us on Facebook & Twitter!
Meet the Author
---