A study by the Pew Internet Project released on October 18 shows new information on the pervasiveness of tablets and smartphones in U.S. homes. The study compiled information received from 6,224 phone interviews across The Nation from ages 16 and up. According to results, tablet ownership has spread exponentially within U.S. households over the last year.  
From July 18 to September 20, 2013, the study tracks activity on the frequency of tablets, e-readers (such as Kindle and NOOK), cell phones and smartphones among individuals across gender, household income, age, race/ethnicity and urbanity.
Aside from the overall incline in mobile device ownership, the Internet Project reported that those who own tablet devices are especially likely to live in upper-income households and statistically have higher levels of education. Of the Americans surveyed by the Pew Internet Project, 35 percent are in possession of a tablet, and the number in households earning more than $75,000 annually is even more, having grown 25 percent in the last year alone. Teenagers age 16-17 own more tablets than any other age group.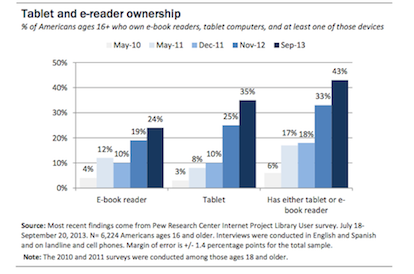 More unexpected are differences found among gender: women are more likely than men to own a tablet or e-reader, but less likely (by 3 percent) to have a smartphone in hand.
Respondents were also questioned on cell phone and smartphone ownership. The presence of cell phones among participants across demographics was extremely high–over 80 percent ownership for all groups except for individuals aged 65 and up, among whom 77 percent carry a mobile phone. 
However, more 20-somethings own smartphones than 70-somethings own cell phones at all. Smartphone use peaked at 79 percent between age 18 and 29, falling again among both younger and older age groups.