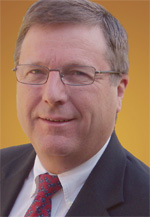 I believe that my primary challenge in 2011 is to resist the tendency to reduce the quality of our products in reaction to the economic downturn that has affected our industry. We are fortunate that our niche market in the extractive industries has not been as severely affected as some industries and we have adopted an aggressive expansion into international markets. Of course, we are all sensitive to expenses right now, but there are certain cuts that are not an option for us. We will never compromise the quality of our products to save money temporarily.
When I started this company in 2003 by purchasing Engineering & Mining Journal and Coal Age, they had been neglected and were planned to be closed by their previous owners, Primedia. It took us a few years of investment and consistent dedication to quality to reinvigorate our products and gain the loyalty of our readers and advertisers. Today, we anticipate making $10 million in revenue in 2011.
We are in an advantageous position as we are completely debt free. We have the ability to wait out the current economic conditions and to take advantage of opportunities that would not have come in a more upbeat economic climate, including our recent acquisition of Rock Products, Concrete Products and Cement Americas from Penton Media. We have a specific strategy to build a platform of products that gives Mining Media the reputation of being an industry leader.
In many markets, it is true that the traditional print-based media industry is fracturing, but in our niche mining industry environment, print is still the dominant medium for our advertising base and our readers, facts supported by readership studies. But we do have some exceptions. For example, in the Asia Pacific we have a print title called The ASIA Miner which serves the mining industry in that region. We also have a weekly e-news service to complement the print product. Because many of the readers are in very remote locations we find that our electronic distribution of the news service and the publication is not only essential, but preferred by many of our readers. There are so many ways to distribute content in today's publishing arena but really it comes down to what do the readers want and in what format, which is what should drive decisions on what medium to use.
We are embracing e-media. For 2011 we are incorporating weekly news services for all of our main titles, we have developed Web sites and we have an online directory of equipment, products and services for the global mining industry. We also have an exciting addition to our stable of e-media products, our permission based E-Journal delivering news, features, equipment reports and video presentations directly into the mail boxes of mining professionals worldwide.
Fundamentally, I remain optimistic. Now is a great time to buy products that cannot be sustained by larger, debt-ridden companies and that strategically fit our company strategy. We have made some recent acquisitions and another challenge I face is to manage the unexpected growth that has come our way.
Desiree Rogers, CEO, Johnson Publishing
Charles H. Townsend, CEO, Condé Nast
Henry Blodget, editor-in-chief and CEO, Business Insider
Don Pazour, CEO, Access Intelligence
Brian Rowland, president, Rowland Publishing

Greg Loewen, president, Emmis Publishing

Ed Gillette, president and CEO, Scranton Gillette Communications
Bill Holiber, CEO, U.S. News & World Report and New York Daily News