Pete May

president and publisher, Greener World Media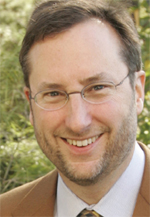 Pete May is the head of a young but dynamic company with strong credibility in the market of "greening" mainstream businesses.
Since relaunching Greener World Media in 2007 as a for-profit, digital-only publisher, Pete May has shown the industry a prime example of how publishers can survive—and even grow—in an economic recession. May's six survival principles, including hiring more freelancers and leveraging existing brands with new products, have poised the company to double its revenue this year despite hard times.
"Some of that growth is in media," he says. "Also in advertising, paid content and live events. But the most interesting pieces take us beyond media into member groups like the GreenBiz Executive Network, consulting, research and other information services."
May started his career in the magazine industry in 1983 at a time when magazines were flourishing, the Internet wasn't a factor and there wasn't much synergy with areas such as events and research. He says with even more competition, the industry will not disappear, but it won't experience much exciting growth either. "However, if you define 'magazines' as the broader area of media and information services, I think there are great opportunities to innovate and solve customer needs," he adds.
Greener World is accomplishing that by building unique events, such as the State of Green Business Forums in San Francisco and Chicago, and expanding its GreenBiz Executive Network, which is targeted towards sustainability executives in large companies. The network currently has 28 members, all from leading major corporations such as FedEx, Dell, Wells Fargo, MillerCoors and Frito-Lay.
Revenue was $1.5 million in 2009, an "eyelash up" over 2008, but Greener World saw a 73 percent bump in the first quarter of 2010. May attributes his success to bringing new energy and innovation to each company he works for. "I also think I have a reputation for being an 'in the field' executive," he says. "I derive most satisfaction from dealing directly with big customers in helping them fill needs and create opportunities. I hate sitting behind a desk, and probably don't attend as many media industry functions with my peers as I should."
VITAL STATS: Greener World Media is poised to double its revenue this year despite keeping staff virtually unchanged from last year.
BACK TO THE 2010 FOLIO: 40 MAIN PAGE 
Meet the Author
---