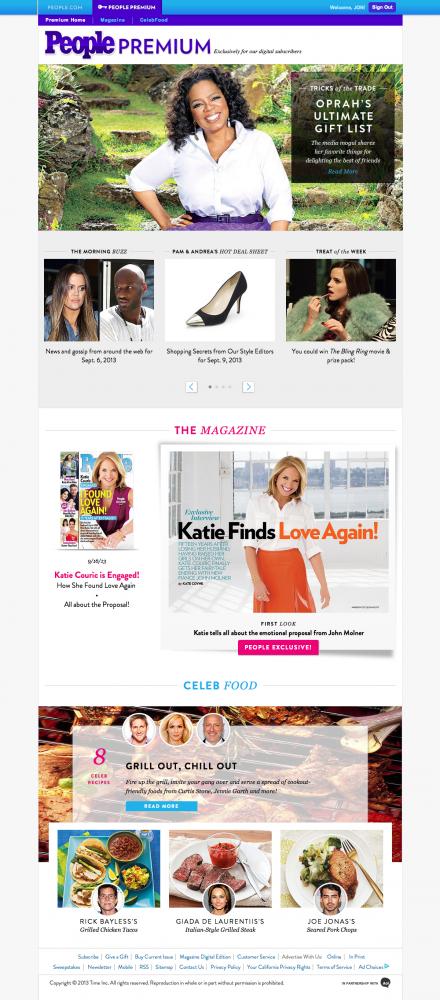 People is revamping its subscription model, putting a premium on its digital products and adding new entry points.
Readers can go print- or digital-only for $112 per year, but they're getting more—i.e. apps and exclusive content—with the latter. A combination of the two runs $132 annually, while a V.I.P. offer, including multiplatform access, gift boxes and monthly prize drawings, is $200 per year.
Options had been limited before today's announcement. Combined print and digital subscription packages were sold for $112, with the choice to opt out of receiving the print magazine. There were no upper-tier options.
Combined print and digital access now costs $20 more, but People is adding value to its digital offers with the launch of a new app, CelebFood, and a members-only section, People Premium. The title also launched CelebWatch late last year as a value-add for its digital subscribers. That means digital subscribers get a variety of products, while print subscribers get only one. Is print inherently more valuable?
"I wouldn't say that it's more valuable," says Kimberly Miller, vice president of consumer marketing for People. "I would say that it's different based on what they want. The digital consumer needs a different value proposition, they want something different from us. That's why we built in some enhanced digital products."
While both apps come included with digital subscriptions, alone, Miller says they're entry-level offers for the magazine's millennial audience. They each can be purchased for $10 per year.
"We have this premium pricing philosophy at People," she says. "We want to make sure we can fill in all levels. We want products available for the next generation of consumers, which is where the digital product innovations have come in, and we also want products available for our loyal subscribers where we can take them to the next level with the brand."
The new products represent a "significant" investment in premium content, adds Liz White, vice president and general manager of People Digital. About 20 new staffers are dedicated to the projects.
"Our approach to paid content digitally is an additive approach," she says. "Everything that was available yesterday for free on People.com is available today."
Digital-subscription gains have been consistent for People so far. The magazine now has more than 62,000 digital subscribers after growing the base 123 percent in the last 18 months, per the Alliance for Audited Media. Total subscriptions have risen gradually over that time as well, topping out at just over 2.7 million.
To stay updated on the latest FOLIO: news, become a Facebook fan and follow us on Twitter!