Fashion, celebrity gossip, movies and cars caught the most attention from readers during the fourth quarter of 2009, according to Affinity's VISTA Print Rating Service research, which tracks the most-read print stories.
People StyleWatch's "Remix Your Wardrobe" feature took the top spot as the most-read story of the fourth quarter with 92 percent of Affinity's surveyed readers recalling that they read the article (Total Readership) and 85 percent reading more than half of the feature (Extent of Readership). Features from two other Time Inc. titles—People and InStyle—also took top spots. Road & Track and Rolling Stone secured the number 2 and 3 spots, respectively.
Average readership as measured across all articles was 65 percent from October to December and is based on readers surveyed on over 100 consumer magazines and more than 1,000 articles.
#1 Remix Your Wardrobe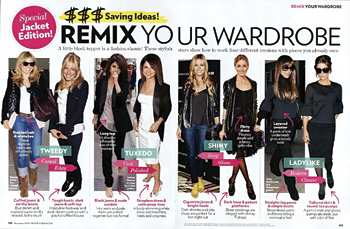 People StyleWatch
November 2009
Total Readership: 92%
Extent of Readership: 85%
"The 'Remix Your Wardrobe' story was about giving our readers easy ideas on how to re-work an item that they already own, (in this case a black jacket), for day or night.  The celebrity examples we used to illustrate the concept were fun and inspiring, and with clear and concise editorial pointers, we made the ideas relatable and doable for most women."
— Susan Kaufman, editor, People StyleWatch
#2 New Cars for 2010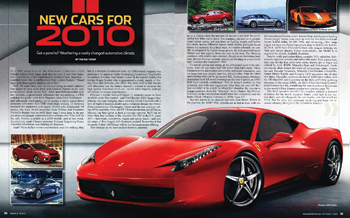 Road & Track
October 2009
Total Readership: 92%
Extent of Readership: 68%
"With this story, Road & Track took a different approach, opening the section with an analytic overview of the market. We picked the most important model introductions for each maker and told the reader why they are significant. In addition, we included sidebars on models that are out of production; cars everyone thought were coming but didn't; cars we like but aren't sold in the U.S. and even a spy photo of Robert Downey, Jr. driving an Audi R8 Cabrio in the upcoming movie 'Iron Man 2.' We also included specifications and first drives."
 — Matt DeLorenzo, VP, editor-in-chief, Road & Track
#3 10 Best Movies of the Decade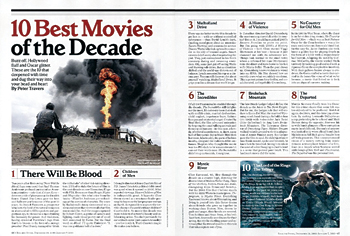 Rolling Stone
Week of December 24
Total Readership: 91%
Extent of Readership: 85%
"Peter Travers is one of the best-known film critics in the country, so anything with his name attracts readers automatically. Plus, it's a subject everyone has an opinion on and, by nature, will start a conversation."
— Will Dana, managing editor, Rolling Stone