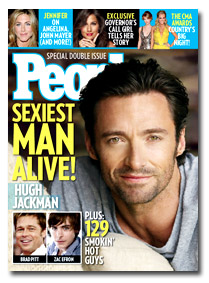 Ever wonder what Michael Phelps smells like?
People magazine, which has a history of experimenting with sensory advertising within its pages, is set to publish a "scratch-n-sniff" section in its Sexiest Man Alive issue.
The magazine, which hits newsstands on Friday, includes a section dubbed "Sexy Scents" with "scratch-n-sniff" photos of Gossip Girl actor Chace Crawford, film actor Taye Diggs, Law & Order star Chris Meloni and U.S. Olympic gold-medal swimmer Michael Phelps—each of whom "describe the fragrance that makes them feel their sexiest." (Crawford chose freshly cut grass, telling the magazine he "grew up playing a lot of football and golf … When I smell freshly cut grass I get this air of competition. It wakes me up, gets me going"; Diggs "loves vanilla, chocolate, sandalwood and musk essential oils.")
In February, People ran an ad for Welch's 100% grape juice which encourages readers to lick a taste strip in what the campaign touted as the final frontier of sensory marketing in magazines to be attempted by Madison Avenue.
Magazines have tried carrying all sorts of sensory ads—sight (remember those LEDs cropping up a few year ago?), sound (People once accepted an ad that played Elvis' "Hound Dog" to annoying effect), touch and, of course, smell—but this is the first instance I can recall a magazine using "smell" in an editorial setting.
(Although how pure it is as an editorial play may be up for debate—Phelps, after all, chose "L'Homme YSL" as his favorite scent. I asked People whether or not Yves Saint-Laurent paid for placement. People says they did not.)
This is not, however, the first time People has used sensory technology in an editorial section. In 2006 the magazine put out a Kraft-sponsored, subscriber-only holiday issue, which featured sensory technology in both advertising and editorial sections.
At the time of the Welch's ad, I suggested the magazines' editorial teams embrace the available sensory technology. "What if you were reading a 29-page Vanity Fair article on, say, the war in Iraq in which you could open a flap and actually smell Baghdad? Or how about lathering Sports Illustrated's Baseball Preview in pine tar?"
Seeing what People did with the technology here (Meloni's favorite scent: "a day at the beach") I may have to rethink this. I still stand by the pine tar idea, though.
Through September, People's ad pages were down 6.1 percent—better than the industry's 9.4 percent average, according to the Publishers Information Bureau.