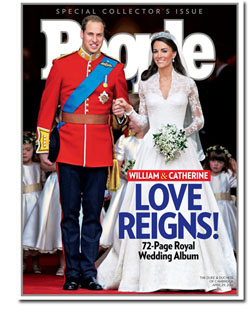 The marriage of Prince William and Kate Middleton was watched by individuals around the world and those that wish to hold on to the special moment will have the option to with the People magazine royal wedding special collector's issue, which hit newsstands Monday morning.
The 220-page feature has the most pages of any one issue of People magazine since 2007. Retail outlets were gearing up in advance to be able to sell the royal issue, which was released four days ahead of schedule.
Stores that wished to cash in on the profitability of having a People collector's item in stock were eligible to receive custom People royal wedding display bins. More than 15,000 were sent to various retailers and wholesalers.
About 700 SuperValu grocery stores are promoting the sale of People's special issue with Magnum ice cream—individuals get $2 off their purchase if they have both the ice cream and the special People publication. Special signage was also given to select retailers in April to promote the wedding issue.
The People Web site—which got a record 162 million page views the day of the wedding, and was more than double the amount from the last record set in February the day after the Academy Awards—undoubtedly helped push the sale of the publication through interactive features and promotion. There are about 13 million unique users that visit PEOPLE.com each month.
The site had a live blog that invited users to talk with editors and each other about the wedding day events. Site visitors could consume more than ever about the bride and groom: an online ranking tool gave users the ability to select their five favorite outfits in the "25 Fantasy Gowns for Kate—Choose Yours" interactive game that allowed users to share their picks on Facebook; an interactive royals A to Z encyclopedia and map of London showed hot spots frequented by William and Kate; there was a royal tribute app on the People magazine Facebook page and a two minute review of the wedding highlights was also available to viewers, among other things.
Though site visitors could do all that, only the magazine offered a 72-page royal wedding album spread, which will likely help boost sales. Representatives from People magazine did not respond to inquires for distribution counts.