People Relaunches Its Mobile Site

Builds in responsive design, custom 'snap' banners and specially timed content.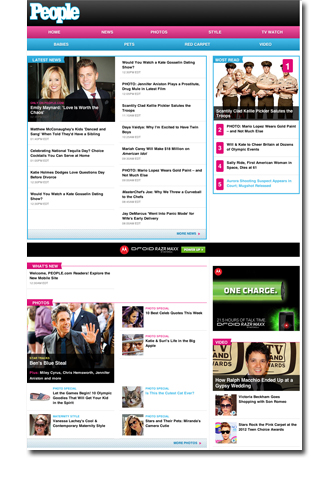 Time Inc.'s People has retuned its mobile site to take advantage of the multi-device landscape and how and when readers consume content. The new site's responsive design now automatically matches display with device and Brian Orloff has been promoted into a newly created mobile news editor position who will program and deploy certain types of content based on how and when users are accessing the site—a process People calls "dayparting."
Additionally, the site now features new ad units called snap banners that appear at the bottom of the screen and travel as the user scrolls down the page, snapping into place midway. If a user clicks on the banner it pops out to full-screen size.
The mobile site's overhaul was largely triggered by the proliferation of devices and operating systems as well as a new understanding of how People's mobile fans are accessing and participating with the content. "We felt there was a strong, unmet demand from consumers and advertisers to deliver an experience that's not just optimized for the device, but for the moment," says Liz White, general manager of People Digital. "We break that moment down between time of day and the length of time the consumer has."
White adds that the site has evolved from the "mobile 1.0" strategy of repurposing desktop content onto a mobile site, then adding enhancements as tablets took off, and then fully addressing the the proliferation of devices and operating systems as well as recognizing how consumers were using them.
"We saw two things wrong," says White. "With the growth of the screen sizes and the operating systems we were dealing with about 14 different templates on the back end. And this didn't fully give us the opportunity to address the different content needs of consumers on different devices."
A customer study in the meantime revealed more detailed mobile usage habits of People's readers—metrics such as the 1.4 hours readers spend per week waiting in various lines, or that users will watch TV with a connected device with them for an average of 3 hours per week. Each of those experiences, says White, offer a different mobile content and engagement opportunity.
This is where Orloff, previously associate news editor, comes in as the site's news editor. He'll program various bits of and lengths of content according to time of day and week. User comments happening on the site about a particular TV program, for example, can be packaged up and featured just as that show is about to be broadcast. And big news from over the weekend can be recapped on a Monday in easily read, bite-sized summaries.
Additionally—and this is part of a broader content strategy across the brand platforms—the editor will tie content from the desktop environment to mobile and back again, enabling a more free-flowing stream of visitors between the two platforms. "The mobile editor's job is to balance and source new content and packaged content from the desktop in a way that is relevant for the time of day and usage on mobile," says White.
Along with that, commenting functionality will be better integrated across desktop, tablet and mobile environments to enable a more seamless engagement opportunities.
The new, custom snap banners scroll with the user and snaps to full screen when clicked on. The idea here, says White, is to balance content real estate with advertising, giving ads a dual personality—small display opportunities and full-screen "experiences" if clicked on. White's team created templates of the banners to provide to agency partners to plug and play creative, and the banners can also be built in-house for clients, if needed.
According to Nielsen numbers, People's mobile site averages about 4.5 million monthly uniques, and White says about 25 percent of the site's usage is over five minutes per visitor. Going forward, White says they'll be looking at traffic and engagement numbers associated with the "dayparted" content and the commenting and gaming features on the site.
Meet the Author
---