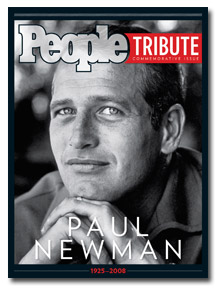 RELATED POST: Is People capitalizing on Newman's death?
People magazine is set to publish a book honoring Paul Newman.
The actor and philanthropist died last week at his home in Westport, Connecticut. He was 83.
The
96-page soft-cover tribute will carry a cover price of $12 and be
distributed in bookstores and newsstands beginning on October 11. A
print run of 450,000 is slated for the Newman book, People says.
The
book, planned before the actor's death, will not benefit any charities.
"Because of Newman's illness, we began working on this project before
his passing," a spokesperson for People said.
The magazine, which
put Newman on its cover this week, has a long history of publishing
books, producing tributes and retrospectives since 1991. Since 2004,
the magazine has published 24 books, including tributes to Johnny
Carson, Princess Diana and "20 Years of the Sexiest Man Alive."