People on the Move | 6.23.11

Harper's Bazaar, The Daily, The Associated Press...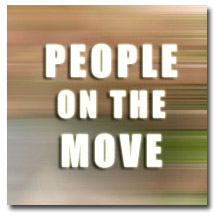 Fortune welcomes Miguel Helft as a senior writer. Helft previously
wrote for The New York Times.
Debra Rosenberg is appointed digital senior editor for NPR,
covering Washington and national news.
Anton Troianovski is now covering telecommunications for The Wall Street Journal.
Julie Cohn joins The Daily as a reporter and producer.
Ben Fidler promoted to senior reporter of The Deal
after previously serving as a reporter on various topics for the publication.
Harper's Bazaar appoints Sam Broekema as senior accessories
editor. Broekema was most recently a marker editor at Vanity Fair.
Lisa Cericola moves to iVillage as a senior editor from her
previous position of style editor at BizBash.
James G. Wright is appointed business editor for Las Vegas
Review-Journal and executive editor of Las Vegas Business Press.
 Wendy Elman is the new vice president of Digital Solutions for Scientific American.
AOL HuffPo Media Group promotes Peter Cherukuri to general
manager.
Kortney Stringer joins The Associated Press as a retail editor. Stringer most recently served as an assistant business editor at The
Boston Globe.
Stephen Koepp is now the editorial director for Time Home
Entertainment.
Knut Englemann is promoted to Wall Street editor of Reuters.
Englemann is the former global company news editor.
Reva Stark joins Here Media as senior advertising director.
 Diana L. Riser is now associate publisher at Gulfshore Media LLC. Riser is the former associate publisher of Boca Raton Magazine and Salt Lake City Magazine.
Alistair Barr is now a reporter at Reuters covering e-commerce. Barr was most recently a reporter for Marketwatch.
 Health magazine names Stacey London contributing fashion editor for a new column titled Closet Rehab. London is a personal stylist and the host of TLC's What Not To Wear.
Politico reporter Meredith Shiner will be joining Roll Call on June 27 to cover the senate.
Bankrate Inc. welcomes Janna Herron as a staff reporter.
Herron is a former reporter from The Associated Press.
Gabe Habash is now a news editor at Publisher's Weekly.
Habash was most recently editor-in-chief of New York University's Washington Square Review.
Steve Clemons is appointed editor-in-chief of AtlanticLIVE
and editor-at-large at The Atlantic. Clemens was most recently a publisher at The Washington Note.
Nick Coleman is named senior news writer at Argus Media. 
Zondra Hughes is now national deputy editor at Rolling Out.
Hughes was previously the editor at N'Digo.
Reuters appoints Sir Harold Evans as editor-at-large and
Ryan McCarthy as deputy editor.
Jaymar Cabebe is now associate editor at CNET.
Alexander Hart is appointed legislative action reporter for
Congressional Quarterly. Hart is a former reporter-researcher with The New Republic.
Forbes will welcome Deborah L. Jacobs on July 18 as senior
editor.
Reid Epstein is appointed breaking news reporter for
Politico. Epstein is a former reporter for Newsday.
Sharon Walsh is now editor of the new PublicSource.org set
to launch August 1.
Jessica Bryce is now arts & culture editor at the
Orlando Weekly, also covering food and drinks for the publication.
Meet the Author
---