People on the Move | 9.15.11

Vanity Fair, Bloomberg News, Cosmopolitan, The Wall Street Journal…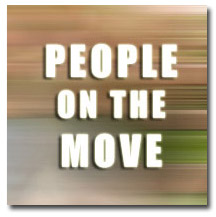 Colleen DeBaise, former small business editor at The Wall Street Journal, joins Entrepreneur Magazine as director of special projects.
The Wall Street Journal welcomes back Scott Patterson, who will be a reporter covering financial regulation in Washington, D.C. David Kesmodel also joins The Wall Street Journal, and will be covering the food, alcohol and tobacco industries.
At Bankrate.com Katie Doyle is now managing editor. She replaced Terence Shepherd who left the publication.
Abigail Pesta, previously editor-at-large with Marie Claire, is named editorial director of the "Women in the World" Summit with the Newsweek Daily Beast Co.
Men's Health announced Tim Koorbusch associate publisher of the publication, effective September 26. Koorbusch comes from The Week and TheWeek.com, where he was national advertising director.
Chris Dixon moves to Vanity Fair from New York Magazine. He will take over for David Harris who is minimizing his role to design editor-at-large. VF also named Chris Rovzar digital editor. Previously, Rovzar was senior editor of Daily Intel as New York Magazine digital editor.
Cator Sparks, former freelancer at FullFrontalFashion, joins Lookbooks.com as editor-in-chief.
At Cosmopolitan, Mika Brzezinski has been named editorial columnist. Brzezinski is the author of Knowing Your Value and is also the cohost of MSNBC's Morning Joe.
Remedy Health Media announced Jim Curtis as chief revenue officer and Kevin Aniskovich as chief innovation officer. Curtis comes from Everyday Health where he was vice president of sales. Aniskovich, former founder and CEO of Intelcare Compliance Solutions, Inc., came aboard as the product of the acquisition.
The New York Times has several announcements regarding editorial positions within the company. Sam Sifton is now national editor; he was formerly known as the paper's restaurant critic since 2009. Adam Bryant is senior editor for Features; formerly, he was deputy national editor. In addition, Mike McPhate is now a web producer; he will be a part of the homepage team. McPhate comes from The Washington Post, where he was a features web editor.
Zach Dionne has been named senior editor for Buzz Media's PureVolume.com. Dionne comes from AOL's PopEater.com.
Edmund Lee, previously a digital media reporter at Ad Age, has been named media reporter covering news corporation at Bloomberg News. Also at Bloomberg News, Sheridan Prasso joins as editor-at-large. In this new position, Prasso will oversee finance and banking for the Asia-Pacific region. She comes from Fortune, where she served as contributing editor.
Food Logistics named Lara Sowinski, former editor-in-chief for World Trade W100, to lead editorial for the magazine.
EyeNet Magazine announced Peggy Denny as senior editor. Previously, Denny was editorial manager at newMentor.
Financial Times announces three changes in editorial positions. Christine Spolar named investigations and special projects editor. Spolar acted as a national correspondent in the US and a foreign correspondent in the Middle East and Europe. Former US markets correspondent for FT Michael Mackenzie is now US markets editor. Mackenzie will be based in New York and will lead coverage and analysis of US stocks, bonds, commodities, foreign exchange, derivatives, wealth and fund management. In addition to these changes, Shahien Nasiripour has been named financial and regulatory correspondent in New York with FT. Nasiripour comes from The Huffington Post where he served as chief business correspondent.
Meet the Author
---