People on the move 9.11.14

All You, TIME, Defense One and more...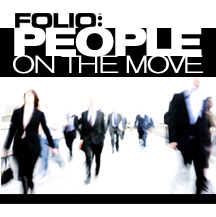 All You has announced Tracy Everding will join the magazine as creative director. Everding served in the same position at Cosmopolitan.
Andy Bush was appointed senior vice president of global accounts for Time Inc. Bush had been international publisher of TIME and Fortune since 2013.
Kalmbach Publishing named Nicole McGuire vice president of consumer marketing. McGuire served as senior vice president of consumer marketing for New Track Media previously.
Irma Clark joined Crain Communications as director of corporate marketing and communications. Clark most recently worked as director of marketing planning and research at Comcast Business.
Condé Nast made several moves:
· Chris Mitchell was named vice president and publisher of Vanity Fair. He held the same title for GQ previously.
· Howard Mittman was appointed Mitchell's successor as vice president and publisher of GQ. Mittman had served in the same capacity for WIRED.
· Kim Kelleher will take over for Mittman as vice president and publisher of WIRED. She had been president of Say Media until late last year.
Benny Johnson was hired as the social media editor for National Review. Johnson previously served as viral politics editor for BuzzFeed.

Steven Crofts was named president of The Data Warehousing Institute (TDWI) of 1105 Media. Crofts had owned TDWI until he sold it to 1105 in 2000 and continued working at the company until 2004. He was most recently vice president of marketing at iOLAP.
Atlantic Media's Defense One has hired Gordon Lubold and Marcus Weisgerber to its editorial team. Lubold, most recently of Foreign Policy, will launch a daily newsletter for the brand, while Weisgerber, last with Defense News, joins as a national security reporter.

Eleftherios Kardamakis was hired as design director for House Beautiful. He was most recently with HGTV.
Meet the Authors
---